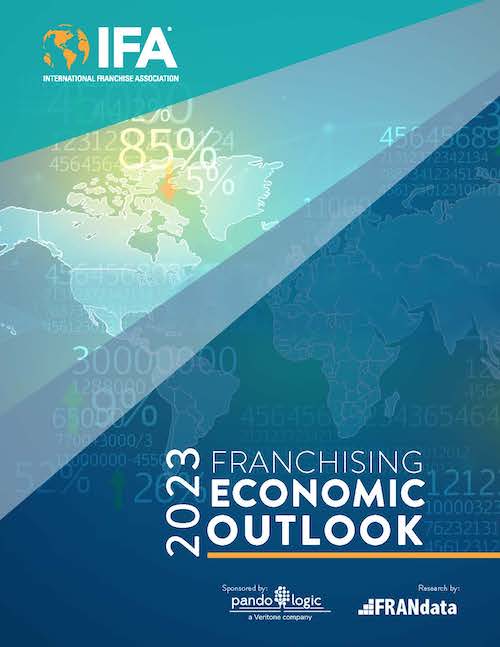 The 2023 Franchising Economic Outlook is IFA's annual study in partnership with FRANdata detailing the franchise sector's performance for the past year and projected economic outlook for the year ahead, as well as an in-depth state outlook for all 50 states and Washington, D.C. The report highlights sector growth across eight key franchising business lines and details regional trends, including the top states for franchise growth. It also provides key insights into the state of the U.S. economy, trends in business, and challenges facing small business owners.                                                                                                                                                                              
Key highlights from the report include:
The overall number of franchise establishments will increase by almost 15,000 units in 2023, or 1.9%, to 805,000 units in the U.S.
Franchising will add approximately 254,000 jobs in 2023. Growing at 3.0%, total franchise employment is forecasted to reach 8.7 million.
The total output of franchised businesses — the measure of total economic activity in nominal dollars — will increase by 4.2% to $860.1 billion in 2023, up from $825.4 billion in 2022.
Franchises' GDP share of the overall economy will remain stable at 3%. Compared with 2022, franchises' GDP — the monetary value of all the finished goods and services produced within U.S. borders — will grow at a slightly slower pace of 4.2% to $521.3 billion.
Service-based industries and quick-service restaurants will witness higher growth than other industries.
On the state and regional level, the report shows that states have experienced different rates of franchise business growth due to disparities in business climates, migration trends, the labor market, and major industry investments. On the state level, it is predicted that:
States in the Southeast and Southwest will experience the fastest franchise business growth in 2023.
The top 10 states for franchise growth in 2023 are projected to be: Texas, Illinois, Florida, Georgia, Tennessee, North Carolina, South Carolina, Arizona, Colorado, and Indiana.
The Southeast region, which has the largest franchise concentration in the U.S., will have an estimated 234,079 total establishments by 2023, employing 2.5 million workers and contributing $250 billion in output to the U.S. economy.
Thank you to PandoLogic for sponsoring this year's report.