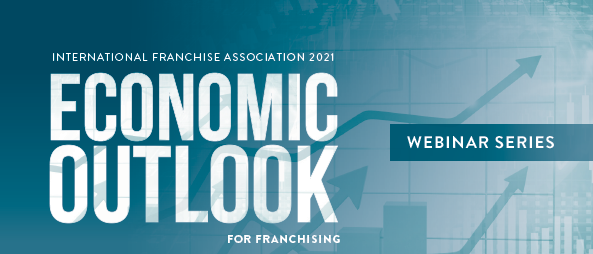 The International Franchise Association (IFA) released its annual Economic Outlook Report detailing the franchise industry's projected economic forecast for 2021.
The report offers an in-depth look into franchising's growth trend following the economic fallout due to the COVID-19 pandemic, as well as an in-depth state outlook for all 50 states and Washington D.C. Conducted by FRANdata, the report forecasts positive growth expected for franchise businesses in 2021, provided continued federal support, and suggests the potential to reach pre-pandemic levels of economic output by the end of the year.
"This report highlights franchising's tremendous potential to lead our country's economic recovery," said Robert Cresanti, IFA President and CEO. "Through quick adaptability, scalable technology, and a focus on in-demand products and services, the franchise sector has shown its resilience time and again. In conjunction with smart policies out of Washington, franchises can help Americans get back to work."
Starting March 18 you can dig deep into the data with a webinar series straight from the experts. Set your calendar reminder to hear the first webinar in the series - Tuesday, March 18 from 2-3pm ET. This kick-off webinar will provide a big picture look at the report data and how franchising overall has weathered a rough economic patch and how the entire franchise industry had to change it up to survive.
Get the Real Story in Sector Spotlights
And since we know franchising is not a monolith, the webinar series continues with a deep dive into 8 sectors. In these Sector Spotlights, you can hear how the latest franchise data compares to your experience, and what's expected to play out in the areas that matter to you. Franchising professionals from each sector will also be on the webinar to discuss their business' experience and how they see the economic future.
The series starts March 18, and repeats every Tuesday and Thursday through mid-April. Mark your calendar now!
Series Calendar
March 18 // 2:00-3:00pm ET – IFA's 2021 Economic Outlook Webinar Series Kick-Off 
March 23 // 2:00-3:00pm ET – Commercial & Residential Services Sector Spotlight - Sponsored by: Netsertive 
March 30 // 2:00-3:00pm ET – Retail Food, Products & Services Sector Spotlight 
April 1 // 2:00-3:00pm ET – Business Services Sector Spotlight - Sponsored by: Answerconnect 
April 6 // 2:00-3:00pm ET – Lodging Sector Spotlight 
April 8 // 2:00-3:00pm ET – Personal Services Sector Spotlight: Health & Beauty 
April 13 // 2:00-3:00pm ET – Personal Services Sector Spotlight: Family & Entertainment 
April 15 // 2:00-3:00pm ET – Quick Service Restaurant Sector Spotlight - Sponsored by: Sauce 
April 20 // 2:00-3:00pm ET – Table/Full-Service Restaurant Sector Spotlight