Image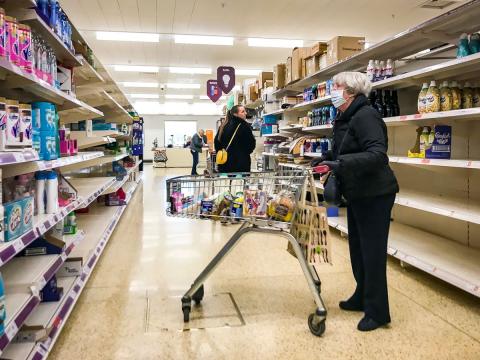 By Amy Jackson, CBSE, and Gina Signor, Office Pride Commercial Cleaning Services 
With growing concern about the spreading coronavirus, it's important to know how to keep your franchise locations' workplaces clean. The virus spreads through droplets in coughs and sneezes of infected people, by touching contaminated surfaces and by person-to-person contact.
Always wash your hands. Wash your hands before and after eating, sneezing, touching surfaces (like doorknobs), using the restroom and caring for someone who is sick. Experts recommend washing your hands for 20 seconds (about the time it takes to sing "Happy Birthday" twice). Also, clean between your fingers and on top of your hands, not just the palms.
Stop touching your face. Germs are transmitted through the mucus membranes of the mouth, nose and eyes. Keep your hands clean and make a conscious effort to stop touching your face, a habit many people aren't aware they do.
Frequently wipe down high-touch surfaces. Germs and viruses, including coronavirus, can live for hours (and possibly days) on door knobs, elevator buttons, light switches, telephones, keyboards, and microwave, refrigerator and coffeepot handles, as well as other high-touch surfaces. Frequently wipe down surfaces with a disinfectant to kill the virus and stop it from spreading.
Make disinfection wipes available to all. Stash containers of wipes throughout your office — in conference rooms, meeting areas, kitchen and other common areas. You can help stop the spread of viruses like coronavirus if the wipes are available and employees can conveniently grab one to wipe down an area.
Put out the hand sanitizer. Place bottles of hand sanitizer containing at least 60% alcohol throughout your office, including the reception area, kitchen and meeting rooms. If someone sneezes and cannot get to a sink immediately to wash their hands, they can use hand sanitizer to help stop the spread of germs.
Use cleaning products that kill the coronavirus. Many cleaning products you find at the drugstore or supermarket are effective in killing viruses like the coronavirus. Read the container label to make sure coronavirus is listed, and follow directions about the time that surfaces must remain wet to kill the virus. In addition, companies like Diversey are testing innovative technology to help with disinfection of workplaces. A recent Office Pride blog also notes there are a number of hospital-grade disinfectants that have proven effective against viral pathogens.
Be clear, yet flexible with your PTO policy. The first policy is no matter what illness, no employee should come to work with a fever. Consider allowing employees who might be getting sick to work from home if they can complete their jobs remotely. Find ways to allow employees to care for sick family members if they are well enough to work but need to care for those at home. If the coronavirus strengthens in the U.S., consider the CDC's recommendation to waive policies requiring doctors' notes to verify illnesses. Medical facilities may be at capacity during that time.
Keep your distance. Encourage employees to keep their distance from one another. According to the World Health Organization: "People can also catch COVID-19 if they breathe in droplets from a person with COVID-19 who coughs out or exhales droplets. This is why it is important to stay more than 1 meter (3 feet) away from a person who is sick." Infected individuals should cover their mouth and nose with a tissue or handkerchief while coughing or sneezing to help prevent transmission.
While health officials are not sure what path the coronavirus will take next, there are many steps you can take to help stop the spread of coronavirus within your franchise.
Click here for a printable flyer for your office bulletin board.
Amy Jackson, CBSE, is the learning and development specialist and Gina Signor is the marketing and branding director at Office Pride Commercial Cleaning Services. Find out more about Office Pride Commercial Cleaning Services here.