Image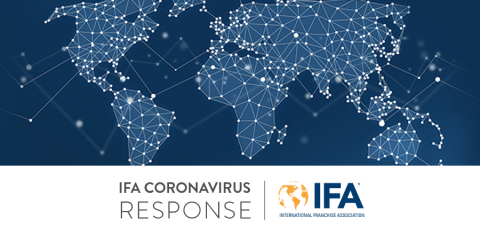 The International Franchise Association (IFA) is working with the Owner–Operator Independent Drivers Association (OOIDA) and The American Trucking Associations (ATA) to help truck drivers to navigate the coronavirus pandemic. Truck drivers are playing a unique and essential role keeping the economy functioning during this period of social distancing and quarantine. However, because increased restrictions on dine-in options, truck drivers are struggling to eat on the road and facing new challenges as they do their jobs. In short, their trucks are too big to fit in a drive-thru, it's largely prohibited for a drive-thru to serve foot traffic, and it's largely prohibited to dine inside – leaving truck drivers with a dearth of options on the road.
The International Franchise Association and broader franchise community are rallying to accommodate truck drivers and communicate this to the trucking community.  IFA, ATA and OOIDA stand ready to promote the efforts of other food service franchises that accommodate truck drivers during this critical time.  Interested food service franchises should email IFA's Tarleton Watkins at twatkins@franchise.org.
Firehouse Subs would absolutely love to serve the trucking community. With over 1000 locations across 46 states, truck drivers can find a close-by Firehouse Subs by logging into our website or downloading the Firehouse Subs app from the App Store or Google Play
Most of our restaurants are located in a variety of shopping centers and strip malls which can handle semi's. Our Rapid Rescue To Go service would be most useful for drivers since they can place their order on our website/ app and it will then be carry-out ready.  Once the driver is parked, they can go into the restaurant and pick up their order at our Rapid Rescue To Go area. 
Fuzzy's Offer: Free Chips & Queso with $5 Purchase. Use Code: TRUCK
We definitely appreciate our friends in the trucking and transportation industry. They are doing their best to keep the country moving through these headwinds, so we're doing our best to provide them with hot meals and great value every time they sail with us. To say thank you and show our support, Long John Silver's locations from sea to shining sea are offering a 10% discount to truckers every day of the week and a 20% discount on Thursdays.  These offers are available now at the nearly 200 corporate owned locations and will be available at all participating franchised locations beginning Monday, March 30.
Due to local regulations and social distance guidance, the majority of our locations are limited to Drive-Thru, Take Out, and Delivery.  Many of our restaurants have space to park rigs and guests are welcome to enter the restaurant to place an order and take their meal to-go.  In locations where the lobby is completely closed, truckers can call in their order and someone from our restaurant crew will bring their order out to them for curb-side pick-up.  We hope to sea you soon!
Supporting America's Truck Drivers
As the world continues to address the quickly changing landscape, we are in this together with you, our valued friends in the trucking and transportation industry. Thank you for everything you are doing to keep essential parts of our economy going. We wanted to personally reach out to you and let you know that, to support you in this effort, McDonald's restaurants are doing their best to remain open to provide hot meals to our customers and employees, as long as local, state, and federal governments continue to allow us to do so. 
Due to local regulations and unprecedented business conditions, the majority of our locations are limited to Drive-Thru, Take Out and McDelivery. Our guests are welcome to join us inside the restaurant and take their meal with them. However, at some locations, only Drive-Thru and McDelivery are available. We realize that you can't bring your rig through the Drive-Thru and for safety reasons, we cannot accept walk up orders at the Drive-Thru window. We recommend you follow these steps to order your favorite McDonald's menu items:
Use McDonald's Mobile Order & Pay app, when you arrive at the restaurant
Select Curbside Service and walk to the designated Trucker curbside sign on the sidewalk outside our designated door  
Complete your order by entering the appropriate Trucker curbside number and we'll bring your order to you at the designated door as soon as it's ready!  
If you haven't used the app before, you'll love it! Beyond making it possible for you to order at this time, you can get the latest deals, place your order ahead of time and select the curbside option. You can also save your favorite orders and re-order at the click of the button, saving you valuable time. Drivers can download the app via from Apple iTunes or the Android Play Store or scan the QR code here.  Feel free to pass this information to your friends and co-workers.  
Thank you again for all you're doing during this uncertain time. Know that we're doing everything we can to be there for you as long as we can. We're in this together. 
Bill Garrett
Senior Vice President, Operations, McDonald's USA
"We at Nathan's Famous are incredibly grateful for the dedication and commitment America's truck drivers have shown as we navigate this increasingly difficult time. We know, in the days and weeks ahead, they will continue to face increasing challenges that hinder them to do their job that many in this country are depending on.  We hope to, as a brand, help alleviate some of their stress by providing them with a way to find a fresh meal, in an easy to access, and safe way. Across our stores that remain open, amidst varying state and local government mandates, we are ready and willing to serve you."
James Walker
SVP, Restaurants at Nathan's Famous
Ruby Tuesday will offer 25% off to truckers on any to-go order between Noon – 8pm. If you order online enter "25" where prompted.
Shoney's have large parking lots, usually located at interstate exits, and provide meals for take-out. 
SONIC's mobile app allows anyone, including truck drivers, to order ahead at the nearest Sonic.  For a typical drive-in, truck drivers can park their truck and walk up to the patio to have their order delivered to them.  While our patios are closed for dining, they are available for takeaway.
Additionally, below are two drive-ins in Valliant, Okla. and Fordyce, Ark. that can accommodate big rigs: