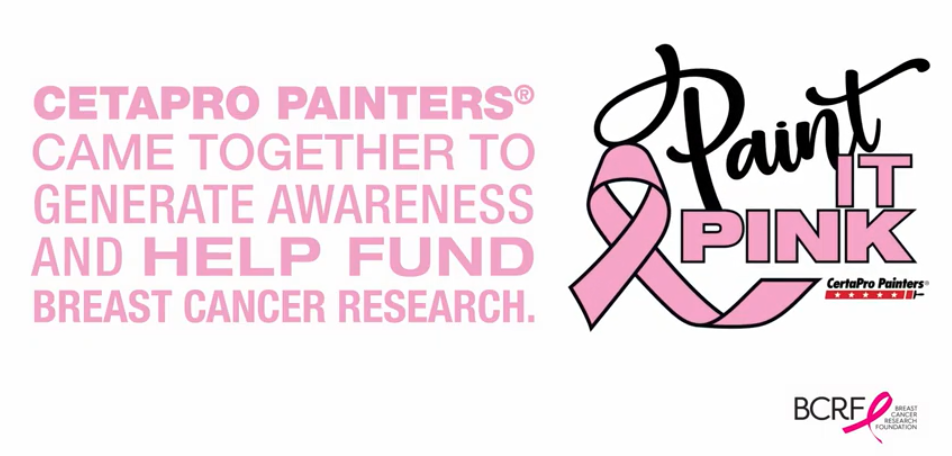 During its second annual Paint it Pink campaign, CertaPro Painters® raised $108,835 for the Breast Cancer Research Foundation (BCRF). This donation will help fund 2,177 hours of research towards finding a cure for breast cancer. 

Participating franchisees donated $10 from every painting project completed in October and November to achieve this goal. Donations were also accepted online, and CertaPro Painters® hosted its first virtual 5k Walk/Run in October, which raised $6,825.

"We are every bit as committed to helping those in need through doing deeds and giving service in our local communities as we are to painting properties," says Bruce Schmidt, CertaPro Painters® Chief Brand Officer. "Seeing that we more than doubled our initial Paint it Pink goal of raising $50k was both thrilling and humbling. We are so grateful for the support of our many staff, customers, friends, and associates." 

This was the second year CertaPro Painters® partnered with the BCRF to support their mission of achieving prevention and a cure for breast cancer. BCRF is the highest rated breast cancer organization in the U.S. and is the largest private funder of breast cancer research—and metastatic breast cancer research—in the world.

Learn more about the CertaPro Painters® Paint it Pink campaign at https://certapro.com/paint-it-pink.
 
For more information and franchise opportunities for International Franchise Association (IFA) franchisor member CertaPro Painters, click here.