Image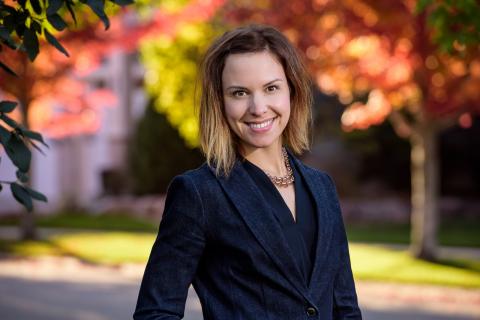 Potbelly Sandwich Shop franchisee in Rochester, Minnesota leads community with passion amid the COVID-19 outbreak.
When we opened our first Potbelly Sandwich Shop in June 2013, we made a decision. Yes, we would serve great sandwiches, salads, soups, cookies and shakes. Yes, we would become a neighborhood hangout spot for lunch breaks and families grabbing meals. Yes, we would be community-centered. But it wasn't until the opening of our second shop in April 2019 that we would adopt the mission "community first" to give back to a community who had given us so much throughout the years.

An early focus would be on supporting young families and early childhood development. We got involved with the Jeremiah Program, a holistic support group for single mothers with young children. The program provides affordable housing, on-site childcare, and life skills and empowerment training for moms who are earning a career-track college degree. Our team has committed volunteer hours, financial resources and meal donations for training nights, as well as a direct employment channel for Jeremiah Program moms.

In 2020, we continued to grow our mission by developing a relationship with Rochester Public Schools. One example of this partnership is our offering of a school-specific "Certificate of Achievement" reward. As students reach a reading goal or are named "Student of the Week," we reward them with a free Short Shake. It is a little something we can do to give back to hardworking students. We began working closely with Parent Teacher Association (PTA) and Early Childhood and Family Education groups and supported their efforts through in-shop fundraising nights and door prize offerings for their school-specific carnivals and fairs.

These initiatives embodied our mission of "community first," and in less than a year after opening our second shop, we had built a stronger presence in the community. We were proud to partner with these exceptional teams and do what we could to support them.

Then COVID-19 happened and everything changed overnight.

 
What now?
In addition to being a Potbelly franchisee, I am a clinical pharmacist at Mayo Clinic – which is right down the street from our downtown shop. Working in healthcare as COVID-19 was rapidly spreading across the nation, I could see the potential impact it was going to have on businesses like ours.  To best protect our staff, customers and our community, we closed our dining room two days before our governor required it.

When we closed our doors and switched to take-out, curbside pick-up and delivery-only, we were scrambling, like so many, to take care of the business and our employees—and we had an important decision to make. Do we continue our mission of giving back to the community, and if so, what does that look like?
Being a lever for good in times of crisis.
In our eyes, there is no better time than one like this to give back. We decided to lean into our mission and do what we could to support those most impacted by the crisis. It was important for us to continue the momentum we had built and lead with our mission, regardless of the circumstances.

After Minnesota schools closed, Rochester Public Schools began offering drive-thru meals, but like everyone, their resources would become strained. The day schools closed, we made the decision to serve free lunches to students in need, no questions asked. The program was a natural extension of our existing relationship with the schools and our focus on early childhood development. In under a week after launching our free lunch program, we served nearly 200 children.

We also made a commitment to give back to those making the biggest sacrifices during COVID-19—the healthcare workers on the front lines. Every day, they go to work and make a sacrifice for their patients and our community.  The least we can do is offer a warm meal. From the time when the outbreak began, we've been dropping off meals for nurses and hospital teams at Mayo Clinic and at the nearby Olmsted Medical Center twice a week. It's a simple gesture of gratitude, and it's our honor to do it.
The impact.
Since we began our goodwill initiatives during COVID-19, the community response has been incredible. Giving back is infectious. Many members of the community and other businesses have made donations to our Potbelly restaurants so we can continue our free lunch program. The donations have inspired us to commit to serving students until schools reopen or the school year ends.

There are business benefits of giving back, too. Through offering free student lunches we've been able to keep our staff engaged and busy. Additionally, with local exposure on social media and in the press, we've generated significant awareness for our restaurants and our mission, which will hopefully lead to a strong start once we're able to reopen our dining room in the months ahead.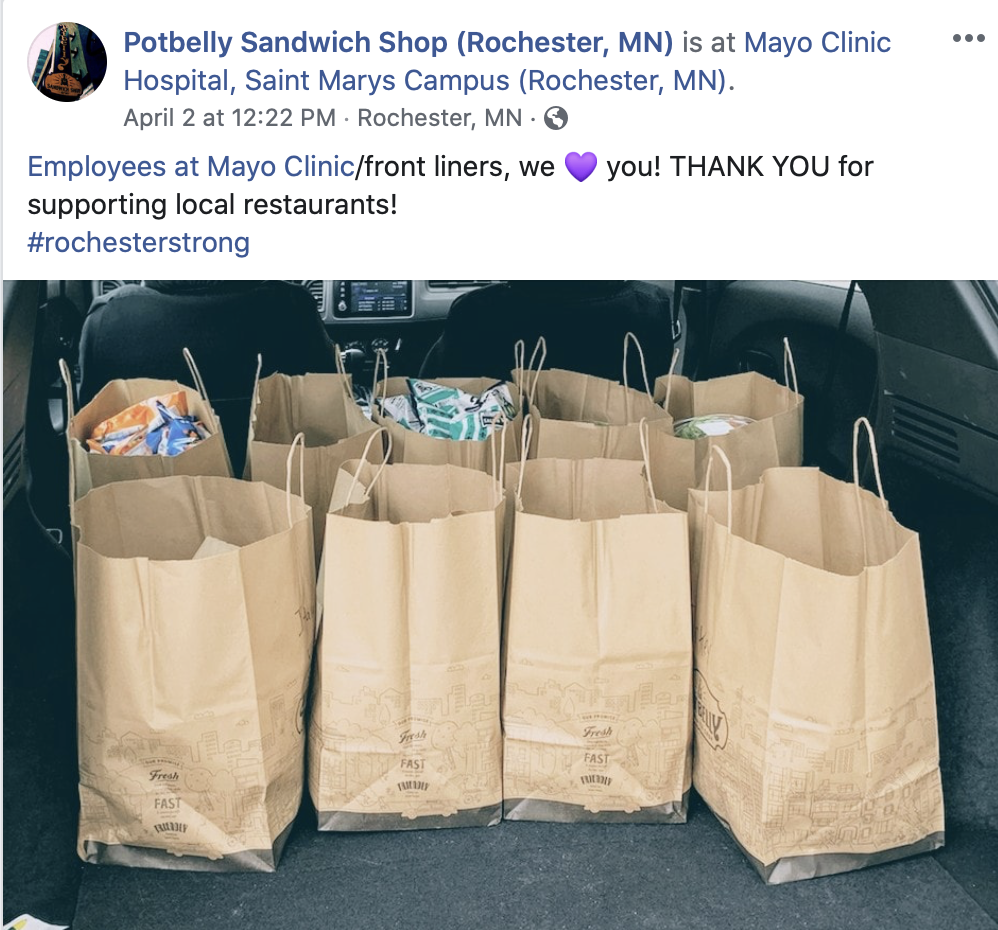 We're inspired by other like-minded businesses in our community, and we hope our collective efforts will be magnified as others pass it on, get involved and support their communities however they can. Giving back, no matter how small, helps all of us feel a little bit brighter about our days right now—and that's important.

The success of our initiatives amid COVID-19 proves what we felt since we opened our restaurant: when you lead with a mission of community first, everything else will follow.
Erin Nystrom is a Potbelly Sandwich Shop franchisee in Rochester, Minnesota. For more information about Potbelly Sandwich Shop, click here.