Image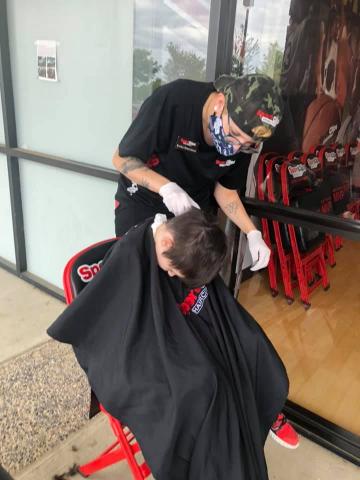 Sport Clips Haircuts stylist Shelby Rosenbaum, who works in Olive Branch, Mississippi, recently told a Memphis' WREG reporter that team members are "supposed to go out of our way for clients," and that's just what she did for her young client Colton.
Sarah Brutsman, Colton's mom, posted to Facebook that her son is "5 1/2 years old and has autism." Shelby cut his hair several times prior to the pandemic, but Colton had gone without a haircut for three months during the initial outbreak of the virus. New Sport Clips Clean Certified guidelines are now in place that require masks and limit the number of people in the store among other precautions. Brutsman says in her post, "I doubted he would wear the mask. And told them I wasn't sure how he'd act if I couldn't be with him.  So the boss lady told our stylist (Shelby) she could cut his hair outside. I immediately teared up and almost ugly cried in front of them." Shelby, in a mask and gloves, grabbed a folding chair, tools and fresh cape and set up for Colton outside the store where he felt more comfortable. It was that image of Shelby's giving spirit that made the news, and it's just another example of how franchises offer so many ways to give back.
For franchise opportunities for International Franchise Association (IFA) franchisor member Sport Clips, click here.