Image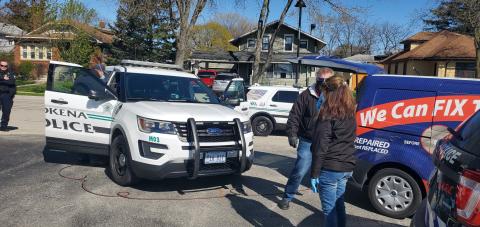 Just outside of Chicago in Mokena and Frankfort, the team at J&J's Creative Colors has been giving back to local police and fire departments. They have provided free vehicle sanitizing for patrol cars and ambulances, which will help to provide a safe environment for their community heroes. So far, they have made four rounds of cleanings, and will have more planned.

This inspiring project by J&J's Creative Colors has been a team effort; even senior officials from the company joined in to help disinfect the vehicles. Executives with the family-owned company who helped included Mark Bollman, President, Terri Sniegolski, Sr. Vice President, Kelli Bollman, Vice President, and Gary Foster, Director of Commercial Operations. Sniegolski, Foster and Kelli Bollman are siblings whose parents started the company 40 years ago.

Taking on such a huge endeavor was no small feat. J&J's Creative Colors pre-cleaned all frequently touched areas with an antimicrobial cloth before applying a disinfectant solution to the entire interior of the patrol cars and ambulances. The crew protected themselves during the project by wearing respiratory masks when sanitizing the vehicles, while focusing on the high-touch areas such as the steering wheels, door handles, seat belts, and electronics.

J&J's Creative Colors' dedication to their community is an inspiration for small business owners across the country, and a prime example of how franchising gives back!

To learn more about Creative Colors International, click here.