We've highlighted FASTSIGNS franchisees who are committed to serving their local communities — even through difficult times such as the COVID-19 pandemic. See below for their inspirational stories! 
Mark and Shawn Glenn — Dallas, Texas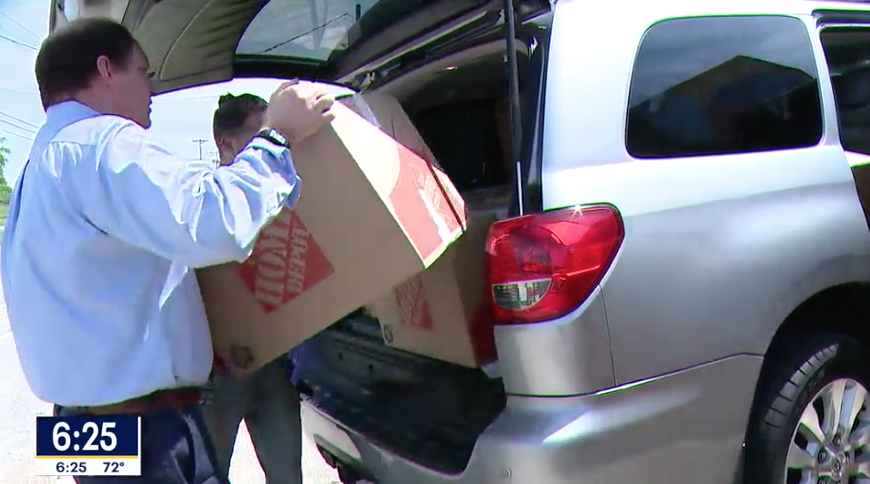 Mark and Shawn Glenn own and operate four FASTSIGNS locations in the Dallas, Texas area. They have transformed their production line to make and donate 15,000 face shields to the Dallas Police Department and North Texas hospitals. They found a way to use their cutting equipment to generate clear face shields. A recent conversation with officers that was eye-opening spurred him to act. "We saw the need that they have and I asked them, 'What are the guidelines for using the face shields?' He said, 'There are no guidelines, they simply don't have any.' That was really alarming and it really opened my eyes to hear from the guys on the front line," Glenn said. Though the Glenns are operating with an incredibly small staff, the team is able to produce these shields without profit from them. 
News highlights:
David St. Clair and John St. Clair — Round Rock, Texas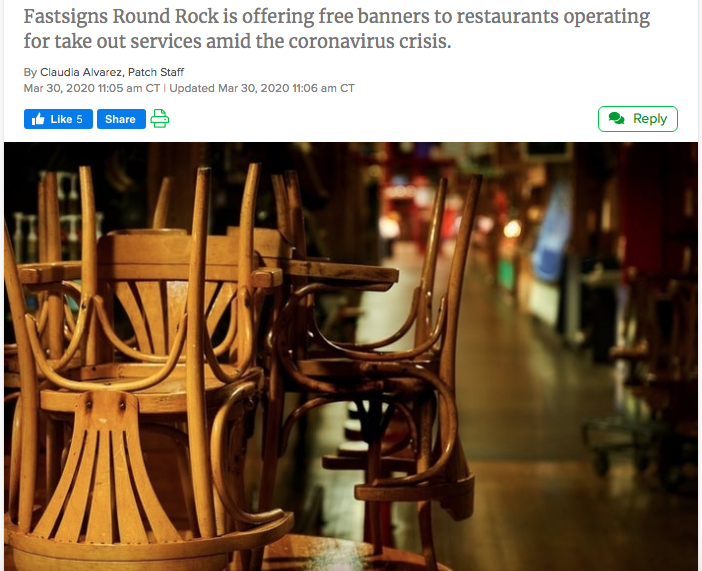 David St. Clair and John St. Clair, franchisees at FASTSIGNS of Round Rock, Texas wanted to assist local restaurants who were struggling with a complete change in the way they now have to conduct business due to COVID-19. Spreading the word that they are open has been challenging for many Round Rock small businesses. To support them, they created free pre-made "open for business- pick up order here" 2 ft x 3 ft banners for owners to choose from. They also offered a discount of 50% off of any COVID-19 related safety items for local businesses and organizations including signs, social distancing floor decals, acrylic sneeze guards, face shields, anti-microbial film, and more. 
News highlight:
Stephanie Basile Drileck — San Antonio, Texas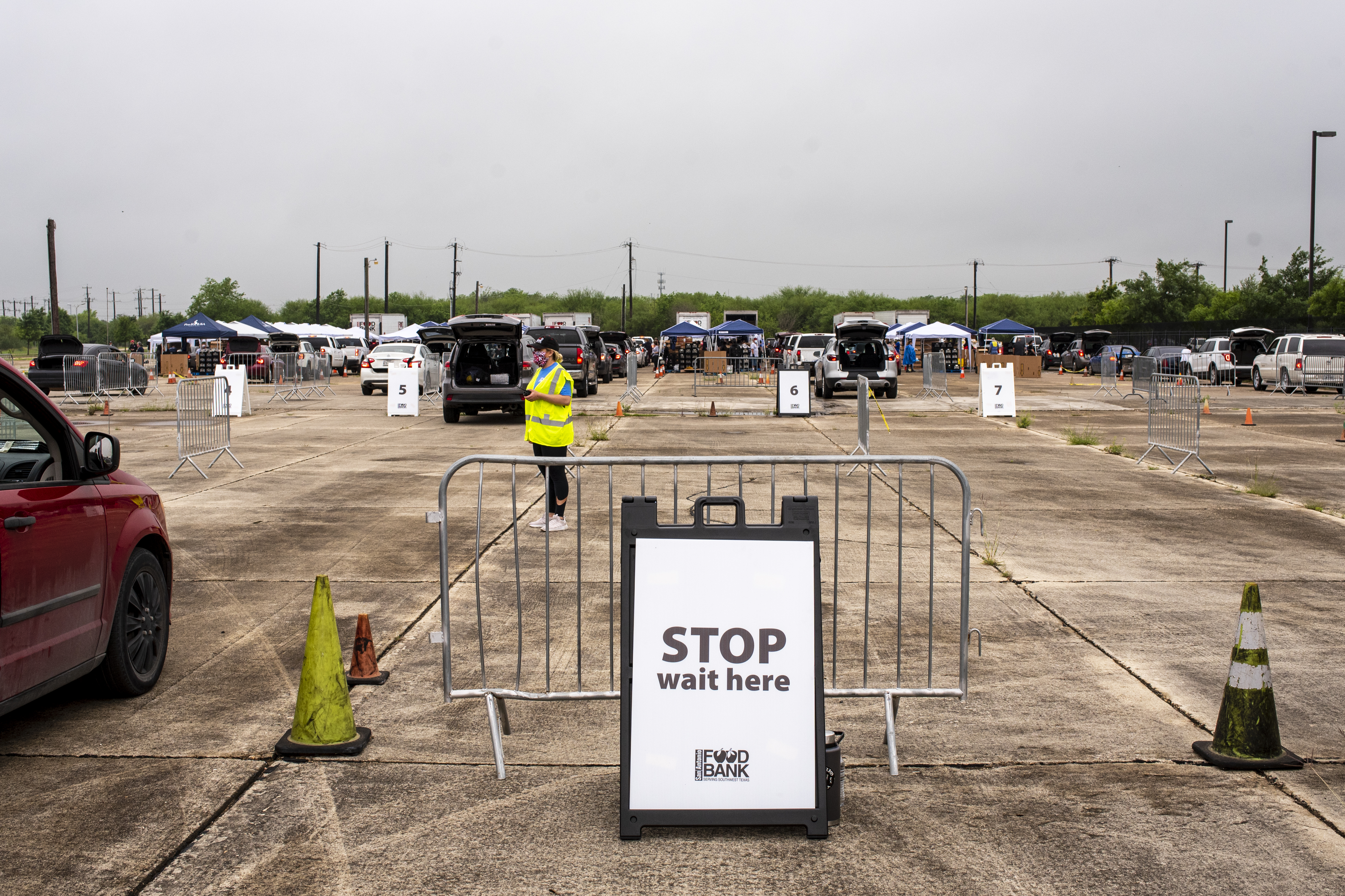 FASTSIGNS San Antonio NW works hard to support their local community, and they refuse to let COVID-19 stop that. On Friday, April 3, the FASTSIGNS team supported the San Antonio Food Bank's mega food distribution event to feed over 1,200 area families. Conducted only through pre-registration, food distributions allow community members to receive assistance without having to leave their cars.
"The San Antonio Food Bank is such a wonderful organization, and as always, steps up to feed our community when in need. We were more than happy to offer our support!" said Stephanie Basile Drileck, franchisee at FASTSIGNS of San Antonio NW. FASTSIGNS created deeply discounted signs for the San Antonio Food Bank in support of their COVID-19 relief efforts to make sure that San Antonians basic needs are met. These signs were used to organize the drive-thru lanes, direct traffic flow, create awareness with decals for social distancing and more.
The San Antonio Food Bank has a mission to "fight hunger and feed hope" and strives to maintain the highest standard of efficiency while providing food to those in need. With only a 2% overhead, 98% of donated resources go to help set the table for 58,000 individuals a week.
"We are so thankful to the FASTSIGNS team," said Mary DeMarigny, Director of Philanthropy. "The quick turnaround and late nights for our project did not go unnoticed. We are incredibly grateful to them, and their signs were truly a critical part in the distributions running smoothly."
Eric Webb — Fernandina Beach, Florida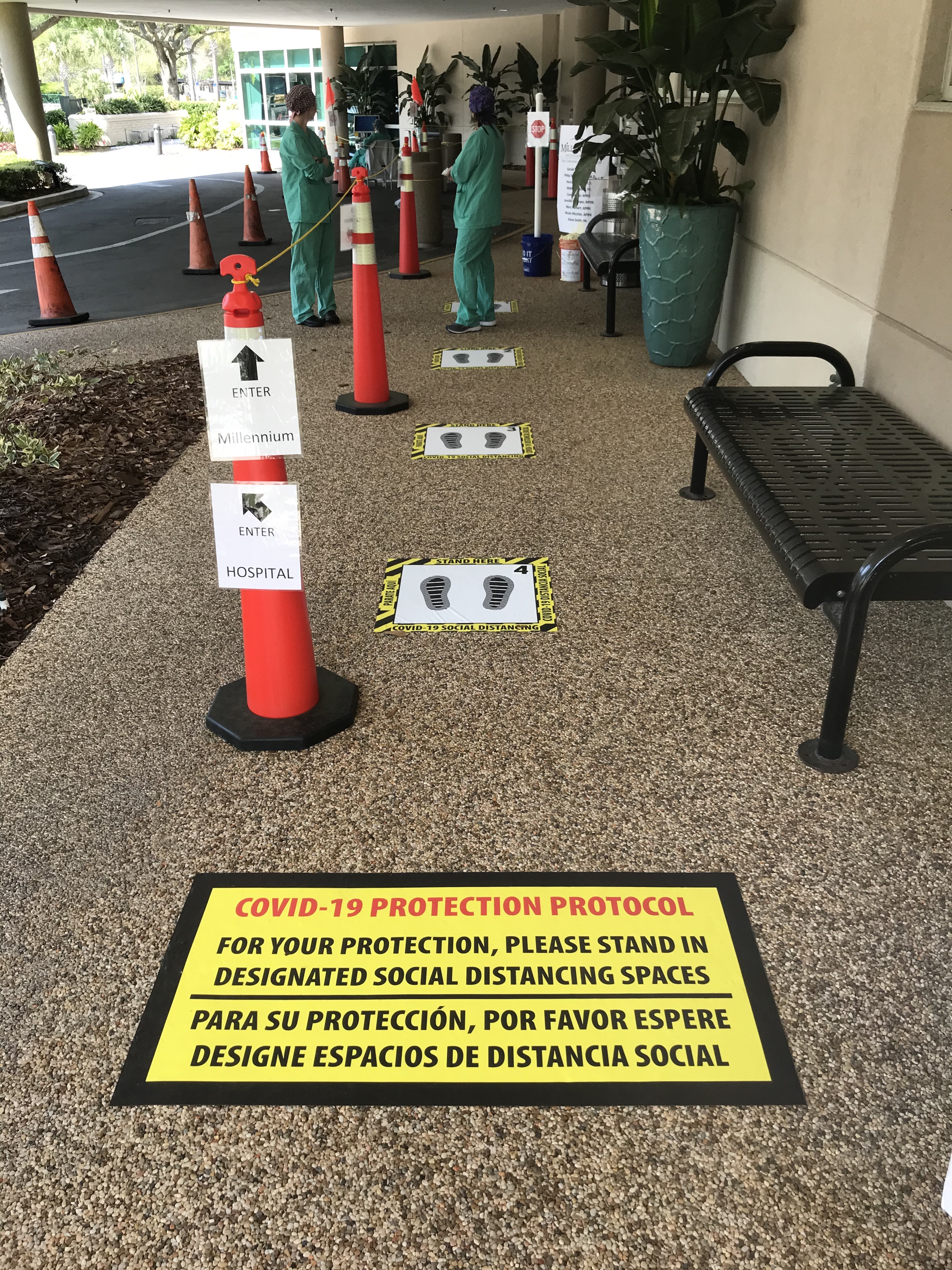 Eric Webb and his team have made intubation boxes for their hospital in Fernandina Beach and University of Florida Health in Jacksonville. They are now making some for a hospital in Duluth, Minnesota. The process began when Eric posted their design for sneeze guards on a local Facebook page and one of the nurses at the local hospital messaged him, asking if they could make intubation boxes. She sent over some schematics from a non-profit organization, and once Eric realized they could easily make them, they created one and donated it to the hospital. The hospital then quickly ordered four more. Next, Eric posted the schematics on the FASTSIGNS community Facebook page, and it took off from there. Since then, they have made some refinements in the design to make them easier and safer to use such as sanding down the arm holes, adding handle tabs on the top piece and rounding a few corners. The nurses and anesthesiologist's that are using them are ecstatic and spreading the word for FASTSIGNS.
News highlights:
Todd Helfer — Jacksonville, Florida
Todd Helfer quickly shifted his production lineup to devices that help healthcare professionals. He was re-thinking his company model for sustainability in a way that would also help others. Tasking his team with brainstorming new ideas for using the equipment and materials they had has led to him and his 14 employees now producing three products (sneeze guards, face masks and inhibitors) that will be of help for doctors, nurses and businesses that require face-to-face contact with customers. The "inhibitors," 20-inch by 20-inch boxes made of acrylics, will enable doctors and nurses to take a patient's vital signs and examine their throat, nose or ears with much lower risk to germs from sneezes or coughs. The team donated these to the Mayo Clinic and more will be made for Baptist Health. Facemasks for healthcare workers and first responders, made of flexible acrylics, and sneeze guards that can be placed between employees of a business and customers are also now in their pipeline. These items will be donated or sold at a low cost. 
News highlights:
Julie Fuller — St. Augustine, Florida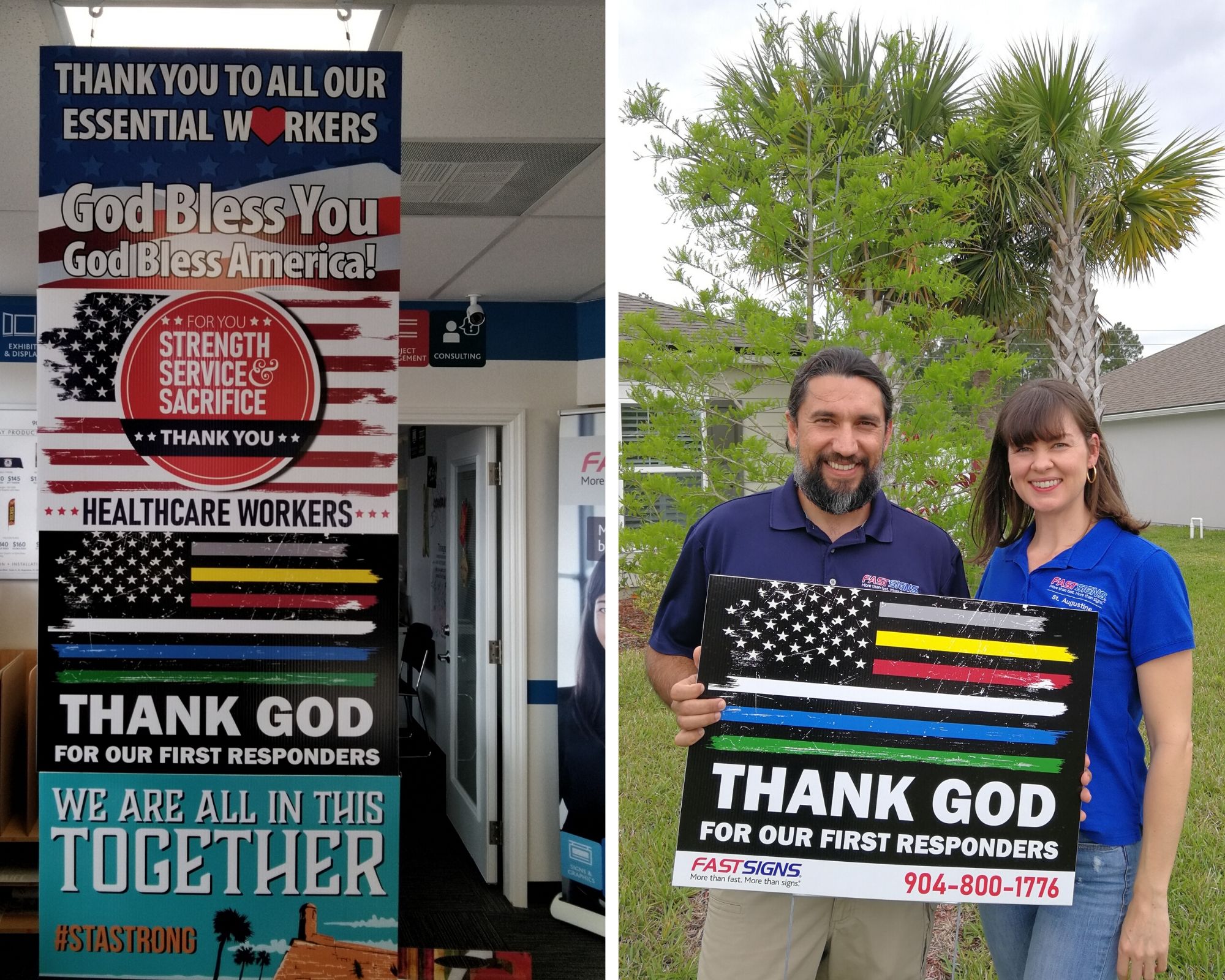 Julie Fuller and Thiago De Araugo, franchisees at FASTSIGNS® of St. Augustine, wholeheartedly believe in supporting their community. In an effort to do this, they have recently partnered with the St. Johns County Chamber of Commerce and created yard signs to support those on the frontlines. There are four different designs from which community members can select. 50 percent of the proceeds will be used to purchase gift cards at chamber member restaurants. They will then donate those cards to healthcare workers and emergency responders. The purpose of the signs is two-fold: to show support and also to circulate funds within the community. "We were inspired to do what we could to help during these challenging times, so we created the yard signs as a way to give back to our community," said Julie Fuller. "We know that others are also wanting to find ways to give back, so we felt this would provide them that opportunity." The yard signs cost $20, and $10 from the sales will go toward the donation. 
News highlights:
Melvin La Pan — Augusta, Georgia
FASTSIGNS of Augusta is actively supporting its community healthcare workers in an innovative way. A local hospital recently reached out to FASTSIGNS in desperate need of isolation gowns. They requested FASTSIGNS use an existing gown to develop a pattern that would enable volunteers to produce new gowns from rolls of plastic table covering at a faster rate. Using the hospital's designed gown, FASTSIGNS created an easier solution for the hospital volunteers to quickly produce them. Melanie Hossler, Graphic Designer at FASTSIGNS of Augusta who knows how to sew, took the gown apart and made the patterns using thick laminating backing paper. She then cut some of the material for them. In one night, she and her husband, Myles, knocked out 20 patterns. 
The hospital now has 20 volunteers making these gowns for the hospital by using two types of poly and masking tape. General Manager Melvin La Pan said he was happy to help out. 
"We may not have the capability to help patients directly but we are glad to do anything we can to assist our healthcare workers in the fight against the virus," said Mr. La Pan. Hospital workers have also been using cheap plastic tablecloth material from retail and party stores to make the gowns. By offering a helpful solution, FASTSIGNS enabled the hospital to complete gowns not only faster but also at a lower cost. In addition, Hossler digitized the pattern for other FASTSIGNS centers to assist in gown creation. This enables them to print one and cut several more out of paper. The team at FASTSIGNS of Augusta continues to do its part to support local healthcare workers on the frontlines with gown production. 
News highlights:
Robb Schmit and Aly Schmit — Milwaukee, Wisconsin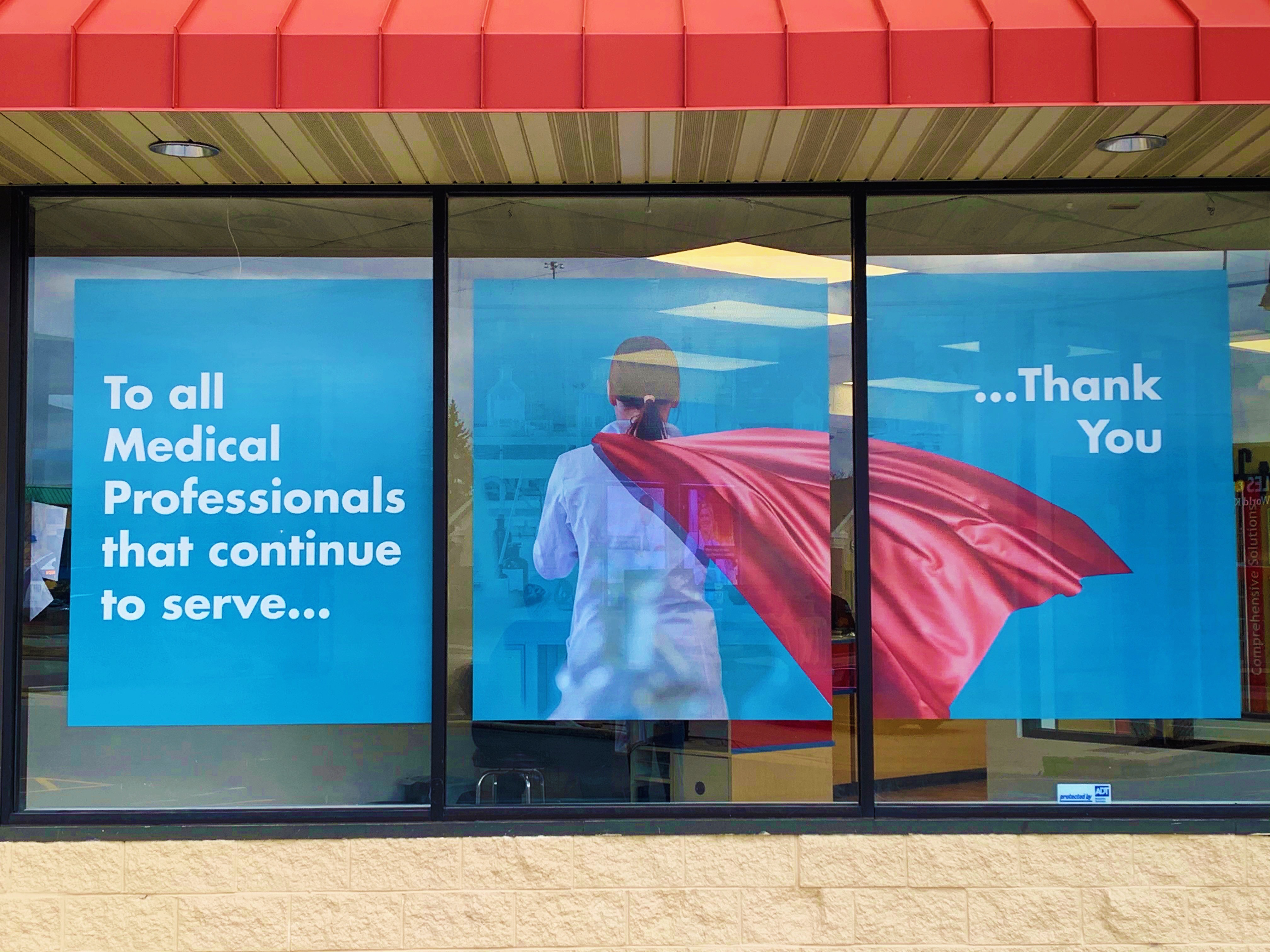 FASTSIGNS of Milwaukee, WI-Glendale recently showed their support of local healthcare workers on April 6 by providing 50 meals from Milwaukee Brat House-Downtown to ER and ICU employees at Aurora Sinai Hospital Downtown Milwaukee. "We are proud and thankful for those who are working tirelessly to keep us safe," said Robb Schmit, franchisee at FASTSIGNS of Milwaukee, WI-Glendale. "We wanted to show our support and appreciation for the difference these heroes are making in our community."
"Our staff really enjoyed the food from the Brat House! We are truly grateful for the donations, and I know our team appreciates all of the love that we have received from surrounding restaurants," said Christina Broussard, Service Quality Coordinator at Patient Experience. "We thank FASTSIGNS so much." Schmit has also shown his support of frontline workers by transforming his FASTSIGNS center windows with an image of a healthcare worker wearing a cape in addition to graphics that say "We are all in this together." 
Giveback video here.
News highlights:
Bill Castoro — 

Nassau County/Garden City/West Hempstead, New York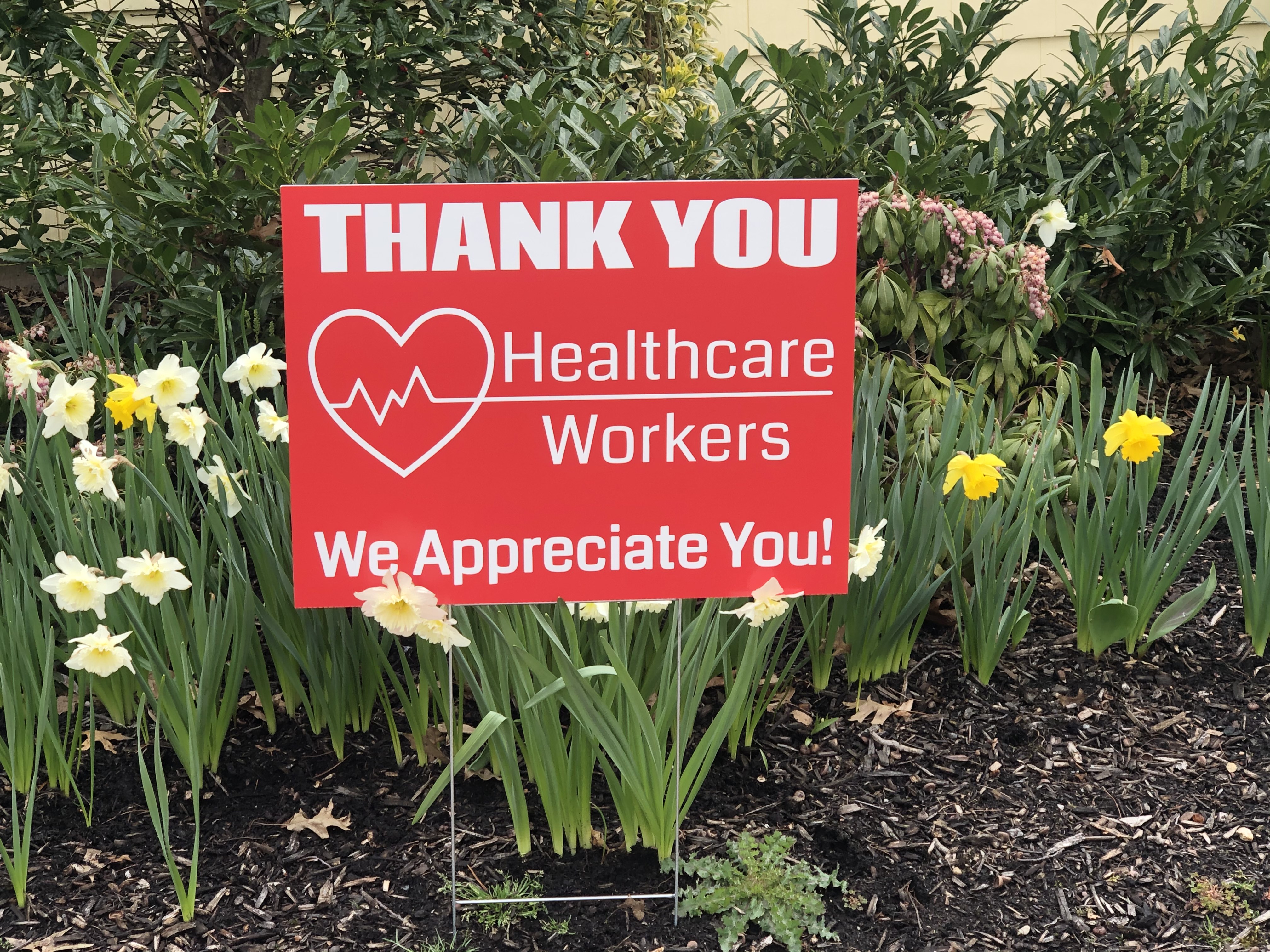 Franchisee Bill Castoro and his team at FASTSIGNS of Nassau County/Garden City/West Hempstead have created "Thank You Healthcare Workers" lawn signs for community members to purchase and display in their yards. Bill deemed $5 of the $20 cost to be donated toward restaurant gift cards for food for Healthcare Workers. The team is working toward a goal of 500 signs around the community, which would give $2,500 in Gift Cards to local Healthcare Workers on the front lines. They also designated delivery and installation of the signs to ensure health and safety with ContactLess Delivery.  As a retired New York City Police Officer and Volunteer Firefighter turned franchisee, Castoro knows just how important it is to have the support of one's community when put on the front line. "We are so thankful for all the work that these men and women do on a daily basis to keep our communities safe and well," said Bill Castoro. "We felt that 'signing up the town' would be a great way to show our support and appreciation to those on the front lines."
Brent Walker — Detroit, Michigan

FASTSIGNS® of Downtown Detroit believes in supporting those on the frontlines during this global pandemic. Franchisee Brent Walker and his team created a giveback initiative where community members are encouraged to purchase a sign for their front yard or storefront window to show their support of local restaurants and also to say thank you to the healthcare heroes keeping us safe. The cost for each sign is only $20, and a portion of the proceeds of each sign purchased will be used to buy gift cards from local restaurants to purchase food for healthcare workers.
FASTSIGNS delivered meals on April 21 and 22. They fed 220 staff members between Detroit Medical Center's main campus and Detroit Medical Center Sinai Grace. "We were inspired to do what we could to help. The signs and food are a small token of our community's appreciation of those on the frontlines," said Brent Walker. "Every small act of kindness can go a long way right now, and we are hoping the community can continue to help us in our mission to say Thank You!" To assist in giveback efforts for local healthcare workers, visit the link here.
Andrew Crompton — Coquitlam, British Columbia, Canada

Andrew Crompton, franchisee at FASTSIGNS of Coquitlam, launched a new fundraiser for the Royal Columbian Hospital Foundation. "We have been working with the team at Royal Columbian Hospital Foundation for many years, supporting them wherever we can," he said in an email to the Record. "A local resident reached out to us looking for a banner to celebrate the hard work of all of our front line workers." FASTSIGNS reached out to the Royal Columbian Hospital Foundation about its idea to raise funds for the foundation's COVID-19 Response Fund. The result is a series of vinyl banners that people can purchase for $50 plus tax, with $25 from each banner going into the fund. The vinyl banners are eight feet long and two feet tall. They can be ready two to three days after orders are placed and can be mailed out or picked up (in a safe, no-touch manner) at FASTSIGNS of Coquitlam. "As far as I know people are going to hang them on fences or from balconies, and businesses will be putting them in their windows or hang from awnings," Crompton said.
Jason Howe, public affairs director for the Royal Columbian Hospital Foundation, said three designs are available. He said FASTSIGNS of Coquitlam has been a strong supporter of the hospital's work for a number of years, including being a sponsor of the annual Making the Cut Charity Golf Classic, which is organized by front-line staff. "The company came forward with this idea in recent days as a way to not only help raise money but also as a mechanism for people to continue to show support for our hospital team as well as all essential services workers," he said. "Partial proceeds will go towards the COVID-19 Response Fund, which is helping the foundation address the needs of the hospital as those needs continue to evolve during this pandemic."
News highlight:
Barry Roufa — St. Louis, Missouri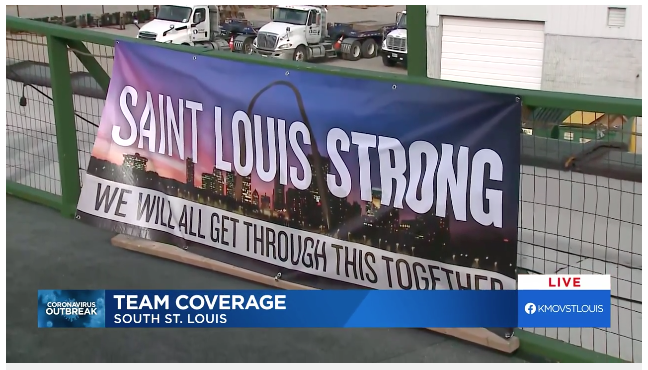 Barry Roufa, franchisee at FASTSIGNS of St. Louis-Bridgeton, has created "St. Louis Strong" banners with a portion of the proceeds being donated to the St. Louis Area Food Bank. "We put our heads together and decided let's put together a banner. Let's call it St. Louis Strong," said Barry Roufa, owner of FASTSIGNS of Bridgeton. Roufa was looking to help a charity, and turned to helping those who might be unemployed and unsure of where their next meal would come. "Why not work with the food bank we've worked with before. That would help feed all these people who are in need of meals day in and day out," Roufa said. A 3 ft. x 8 ft. St. Louis Strong banner goes for $60. Banners that size normally cost twice that. The St. Louis Area Food Bank will get $10 from the sale of each banner. The food bank said that $10 can provide 40 meals.They're also selling $7 yard signs with two dollars for each sign going to the food bank.

News highlights:

Kelly Shiley — Savannah, Georgia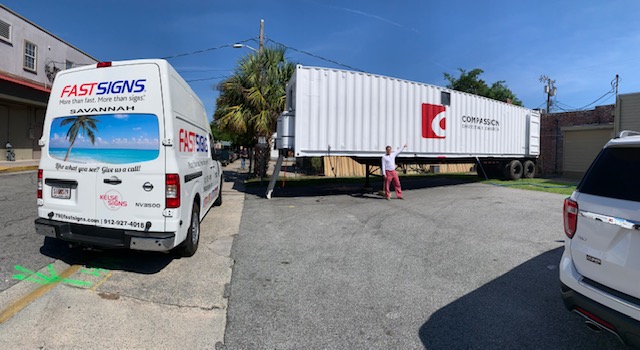 FASTSIGNS of Savannah franchisees Kelly Shiley and Sean Brooks have recently been part of a community goodwill project to support the homeless community in their area. Someone gave their name to Compassion Christian Church, one of the largest churches in town, about putting graphics on their semi trailer that they turned into a Mobile Shower Unit for the Homeless at the request of the City of Savannah. The church funded the vinyl needed for the project and FASTSIGNS donated the labor, time and installation costs. The Mobile Showering Unit will be moved to one of our parks this week to start helping the homeless population, due to the shelters being closed. The unit can provide 100 showers in 4 hours and then break for an hour to wash the towels and get set up for another 4 hours of 100 showers for those in need. 
To find out more about FASTSIGNS, click here.