Image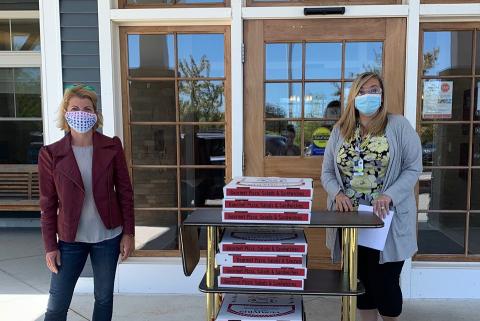 FirstLight Home Care of Omaha Owner Sends Hugs, Love, Prayers to Those in Senior Living Communities
FirstLight Home Care of Omaha owner Jaye Firmature McCoy recently donated $100 each to several Omaha-area senior living communities in the hopes of raising the spirits of those who might be struggling with fear, sadness and isolation. 
Jaye instructed the communities to carefully select a few individuals who needed to know they were being thought of and cared about during this tough time and then treat them to something that would brighten their day. 
Jaye wished to remain a secret friend sending hugs, love and prayers. 
Owner of FirstLight Home Care of Southern Hillsborough and Manatee County Donates Her Personal Stimulus Check to Area Organizations
Janice Bayruns, owner of FirstLight Home Care of Southern Hillsborough and Manatee County in Riverview, Florida, donated her entire personal stimulus check to Seeds of Hope Food Pantry, which serves southeastern Hillsborough County, and Another Round, Another Rally, an organization supporting workers in the hospitality industry.
Janice said that she felt incredibly blessed and grateful beyond words to have a healthcare business in operation and to be able to keep her wonderful staff employed. It was her wish to donate her personal stimulus check to one or two of the organizations supporting some of the hard-hit industries.
Janice is incredibly kind, generous and community-minded.
FirstLight Home Care of The North Shore Partners with Local Organizations to Lift the Spirits of Clients and Caregivers
During COVID-19, Molly and Steve Rowe, owners of FirstLight Home Care of The North Shore in Swampscott, MA, have been delivering "thank-yous" and good spirits to clients and caregivers not able to get out and about, as well as some of the frontline heroes in the community.
They partnered with a local restaurant and the owner of their office space to deliver meals to clients and their caregivers for them to enjoy together. They have also been making the rounds dropping off pizzas to the superheroes working tirelessly at area nursing, retirement and assisted living facilities. 
Additionally, Molly and Steve take the time to provide lunches to their own caregivers because the words "thank you" just don't capture how grateful they are for their caregivers who show up every day and continue to care for their home care clients during these challenging times.
FirstLight Home Care of Maryville Celebrates Health Care Workers with Coffee and Donuts and Cheers Up Seniors with Community Art Project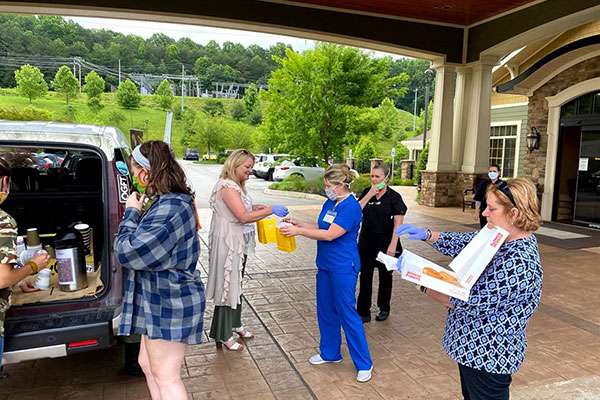 FirstLight Home Care of Maryville, TN, owners Ben and Angela Crawley has teamed up with Little River Coffee Company to celebrate area health care workers. The goal of the coffee and donut bar is to continue to give thanks to the community's workers whoa re on the front lines fighting the COVID-19 pandemic.
FirstLight has been giving away free donuts and a special brew of coffee called First Light, served by Little River Coffee. 
Ben and Angela are always looking for ways to give back to the health care community with gifts, snacks or small supplies. It seemed a no-brainer to provide coffee when the opportunity arose, especially one named First Light.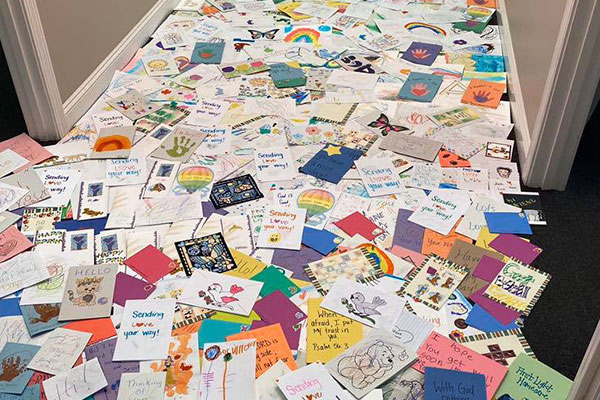 To say overwhelmed with emotion would be an understatement. When Ben and Angela Crawley put out the call for help to cheer up the elderly living in area senior living communities, they never imagined the response they would get.
The community went above and beyond by donating more than 1,000 pieces of art. The children's artwork came from daycares and other nursery schools, as well as neighbors in Ben and Angela's community.
Angela said they will continue to accept art until folks stop donating as it brings so much joy and happiness to the area seniors.
For more information and franchise opportunities for International Franchise Association (IFA) franchisor member FirstLight Home Care, click here.