We've highlighted FASTSIGNS franchisees in Florida who are committed to serving their local communities — even through difficult times such as the COVID-19 pandemic. See below for their inspirational stories! 
Eric Webb — Fernandina Beach, Florida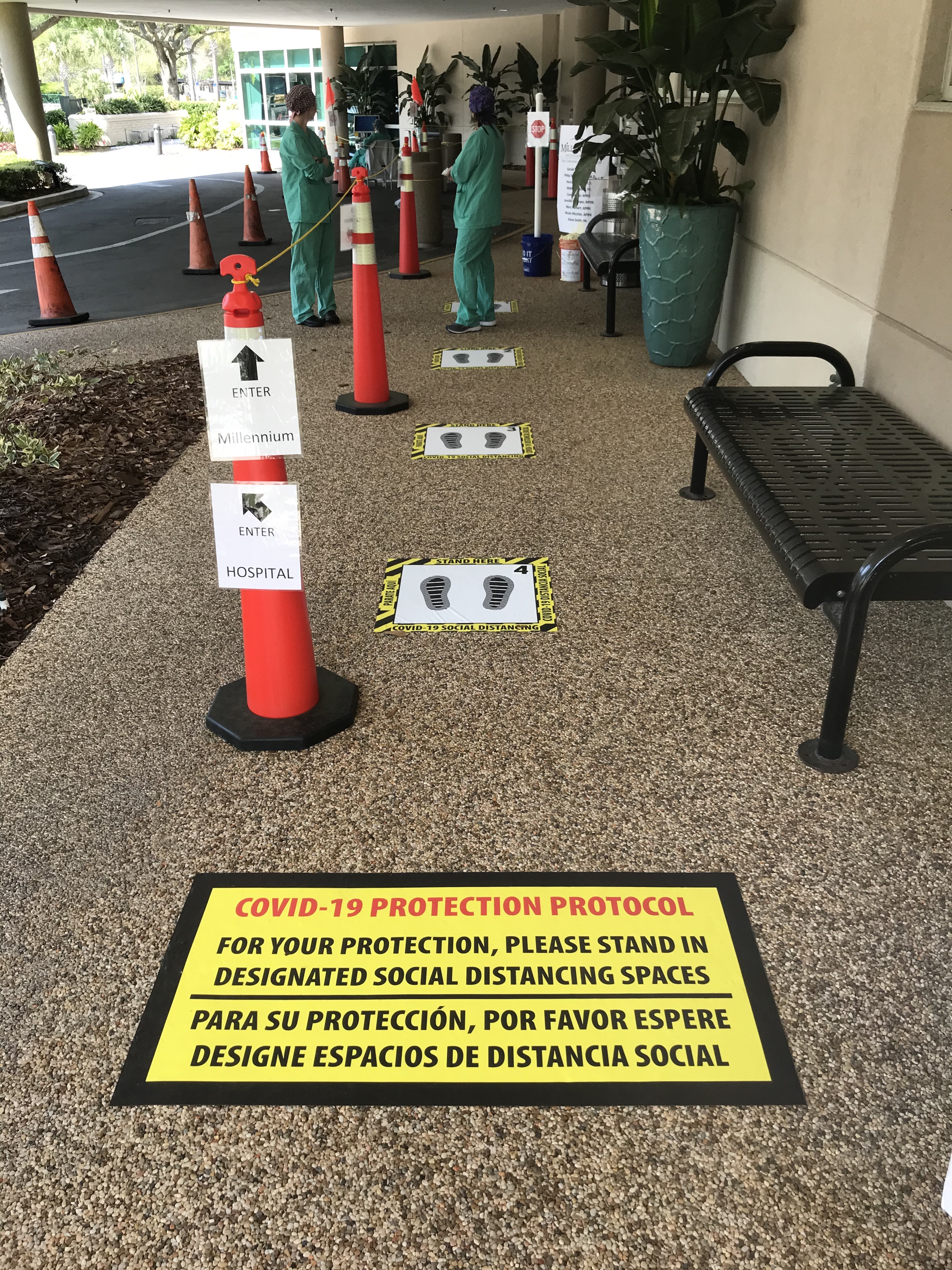 Eric Webb and his team have made intubation boxes for their hospital in Fernandina Beach and University of Florida Health in Jacksonville. They are now making some for a hospital in Duluth, Minnesota. The process began when Eric posted their design for sneeze guards on a local Facebook page and one of the nurses at the local hospital messaged him, asking if they could make intubation boxes. She sent over some schematics from a non-profit organization, and once Eric realized they could easily make them, they created one and donated it to the hospital. The hospital then quickly ordered four more. Next, Eric posted the schematics on the FASTSIGNS community Facebook page, and it took off from there. Since then, they have made some refinements in the design to make them easier and safer to use such as sanding down the arm holes, adding handle tabs on the top piece and rounding a few corners. The nurses and anesthesiologist's that are using them are ecstatic and spreading the word for FASTSIGNS.
News highlights:
Todd Helfer — Jacksonville, Florida
Todd Helfer quickly shifted his production lineup to devices that help healthcare professionals. He was re-thinking his company model for sustainability in a way that would also help others. Tasking his team with brainstorming new ideas for using the equipment and materials they had has led to him and his 14 employees now producing three products (sneeze guards, face masks and inhibitors) that will be of help for doctors, nurses and businesses that require face-to-face contact with customers. The "inhibitors," 20-inch by 20-inch boxes made of acrylics, will enable doctors and nurses to take a patient's vital signs and examine their throat, nose or ears with much lower risk to germs from sneezes or coughs. The team donated these to the Mayo Clinic and more will be made for Baptist Health. Facemasks for healthcare workers and first responders, made of flexible acrylics, and sneeze guards that can be placed between employees of a business and customers are also now in their pipeline. These items will be donated or sold at a low cost. 
News highlights:
Julie Fuller — St. Augustine, Florida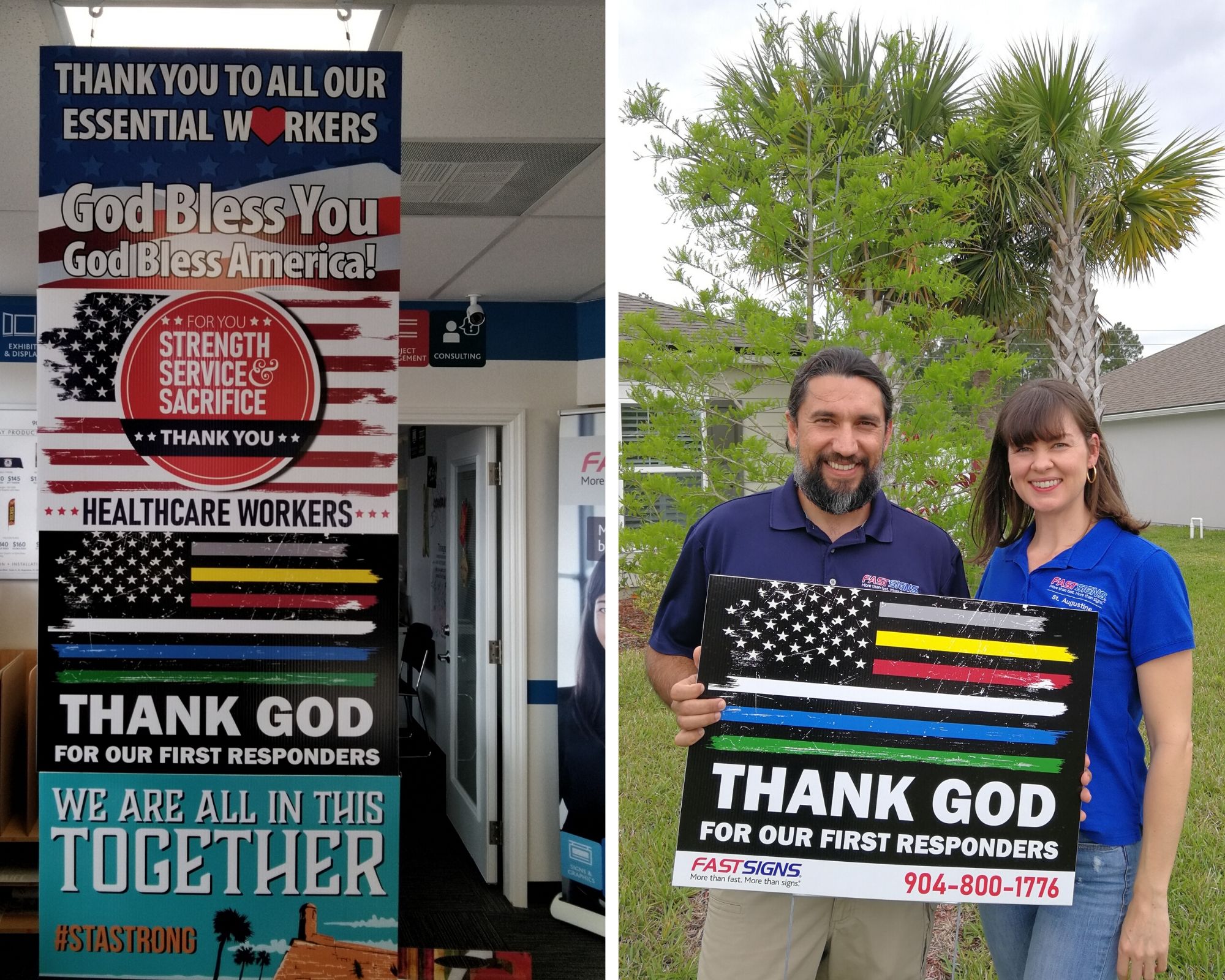 Julie Fuller and Thiago De Araugo, franchisees at FASTSIGNS® of St. Augustine, wholeheartedly believe in supporting their community. In an effort to do this, they have recently partnered with the St. Johns County Chamber of Commerce and created yard signs to support those on the frontlines. There are four different designs from which community members can select. 50 percent of the proceeds will be used to purchase gift cards at chamber member restaurants. They will then donate those cards to healthcare workers and emergency responders. The purpose of the signs is two-fold: to show support and also to circulate funds within the community. "We were inspired to do what we could to help during these challenging times, so we created the yard signs as a way to give back to our community," said Julie Fuller. "We know that others are also wanting to find ways to give back, so we felt this would provide them that opportunity." The yard signs cost $20, and $10 from the sales will go toward the donation. 
News highlights:
To learn more about FASTSIGNS, click here.