Image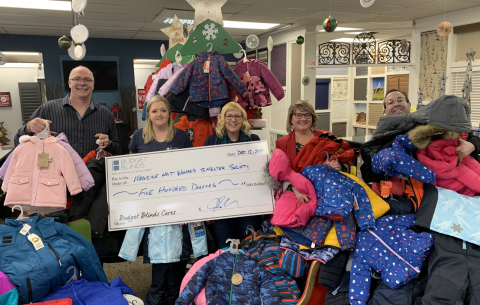 When we started the franchise back in 2007, my original partners and I mutually agreed that giving back was an important investment to make in our neighborhood and our business. We lived in the best city, enjoyed the best staff and a growing clientele, and had access to the best community partners, so it was an easy decision.   
Thirteen years later, that commitment has helped make Budget Blinds of Medicine Hat/The Foothills in Alberta, Canada a great place to work and a vital part of the Medicine Hat community.
But it's hard to overstate just how valuable and rewarding giving-back has been for us.
Our franchise recently received a Budget Blinds Cares Award from the Budget Blinds franchisor for our work with the Medicine Hat Women's Shelter Society (MHWSS) and for providing hunger relief and family assistance in our area. Together with my current Budget Blinds partners and co-owners John, Kristen and Jamie, we organized a "Spread the Warmth" campaign to donate warm winter clothing for local families by making a donation to the MHWSS for every Budget Blinds insulated window product sold and by encouraging our customers and residents to donate directly to the organization. 
My partners and staff are proud to also support the Kinsmen Club of Medicine Hat; Medicine Hat News Santa Claus Fund; Mustard Seed's Champion Center, serving people experiencing poverty and homelessness; Medicine Hat SPCA and Alberta Pound and Rescue Centers; Big Brothers/Big Sisters of Medicine Hat; the Medicine Hat chapter of the Girl Guides of Canada; and other charitable efforts organized by the Medicine Hat chapter of the Canadian Homes Builders Association.
I truly feel that although Budget Blinds of Medicine Hat/The Foothills was the official recipient of the Budget Blinds Cares Award, it was our friends, fellow business colleagues and local partner groups that also deserve the recognition. This list includes everyone from Chris Hellman, owner of the local Mr. Lube, who made it possible for us to add a van-full of diapers to the Basics For Babies drive and organizes an annual Remembrance Day Free Oil Change Day for veterans and active military, to Tara Williams, friend and local college professor, who has organized a successful "Teampon" campaign to collect menstruation products for our local food bank.
It was their care, concern and partnership that allowed us to truly make a difference.
The most important thing to know about Medicine Hat is that it is a caring, committed community. If there is a need, people come together and "step-up" to help out – whether it be with their time, money or kindness. And although Medicine Hat is technically a city, we have the heart of a small town. 
What's truly amazing is how contagious giving-back can be. In addition to individual clothing and financial donations from our staff, customers, colleagues, friends and family, the Medicine Hat Women's Shelter Legacy Fund will match the money we raised dollar for dollar – so our impact is being magnified way beyond our expectations.
From a business standpoint, we're now receiving more inquiries, loyal customers and positive word-of-mouth than at any time in our history – which is certainly nice to hear as a franchise owner but secondary to being able to change lives.
It's not an exaggeration to say that all of us at Budget Blinds of Medicine Hat/The Foothills are still in shock at the whole experience. We even planned a special "giant check" presentation celebration to announce the extent of the matching gift and to thank everyone involved.
And John, Kristen, Jamie and I are already making plans for our next community partnership.
Dawn Cameron is the co-owner Budget Blinds of Medicine Hat/The Foothills.