Image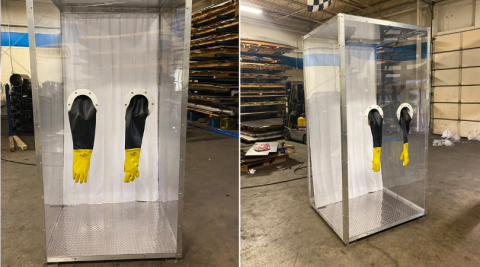 Jesse Johnson, Metal Supermarkets multi-unit franchisee in Indiana, was able to use his resources and talents to help local doctors protect themselves against coronavirus. At the request of Hancock Regional Hospital CEO Steve Long, Johnson quickly designed and constructed a booth to be used for rapid, massive testing of people who may have the coronavirus. 

By creating this booth, Johnson was also able to reduce the amount of personal protective equipment (PPE) that is being used by the hospital and limit the direct contact doctors have with people who could be possibly exposed to the virus. 

When a patient is in need of a coronavirus test, a doctor is able to easily enter the booth and reach through the openings built in the front to safely administer nasal swabs to test the patient using the attached gloves. The cutout gives them the dexterity to move their arms outside the booth, test others and put the samples into the box that will go to the lab. It allows the doctors to quickly test a large amount of people while providing them with protection from exposure to others.

Johnson and his staff built and designed most of the booth at their franchise location. The work included cutting materials, drilling holes, sourcing hardware and protective gloves and fabricating parts and final assembly. The booth features walls of lexan, a transparent, impact-resistant polycarbonate. It is also made with aluminum angle and assorted sheet metal for the floor and roof. These materials allow for a safe barrier between the doctor and a potentially symptomatic patient. The team also used a tig welder and sourced the lexan from Auburn Plastics and Rubber.
Jesse Johnson's dedication to his community demonstrates the power of giving back, and how it is possible to use creativity and talents to help others!
For more information about Metal Supermarkets, please click here.