Image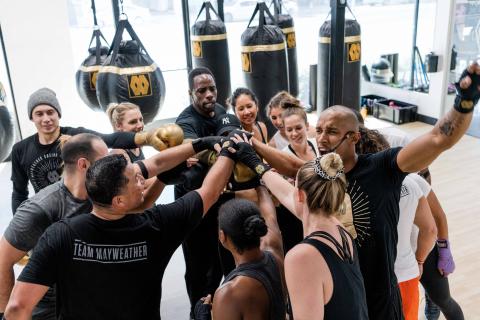 Businesses across the globe are facing unprecedented hardships due to the coronavirus (COVID-19) pandemic. While franchise brands are experiencing the struggle as well, one thing that this unique business model benefits from is community. Franchisors, franchisees and suppliers are willing to share best practices and resources for their peers, and that is what makes franchising so vibrant and special. 

To see what specific industries are up to during this time, I reached out to the CEO of Mayweather Boxing + Fitness, James Williams, and asked him some questions about his brand's response to the pandemic. Here's what he had to say:
 
What are some of the effects the coronavirus pandemic has brought to the franchise fitness industry? 
The fitness industry has been impacted like almost every other business.  In compliance with government mandates, gyms and fitness facilities have been directed to temporarily close their doors. Prior to the shutdown, cleanliness became a huge priority throughout the industry. When gyms open back up again, there will be a new paradigm in terms of what members expect and what gyms will be required to - and what they choose to do - in terms of sanitation. While the entire fitness industry is now faced with the challenges of temporarily closures, there will certainly be meaningful opportunities that come out of this, which we are already seeing, both at the corporate level, and for our franchisees. Companies that can pivot quickly and capitalize on an evolving fitness landscape and shifting consumer demands will ultimately be able to position themselves to be better off post-coronavirus. 
 
How has your brand been handling the current situation?
For our open studios, in accordance with guidelines from the CDC and other authorities, we are temporarily closed; but are running live streaming and digital programming to keep all members across the system fit and engaged with the brand in the short term. We are working hand-in-hand daily with all of our open franchisees to help support in all areas of their business through this time. We have daily touchpoints with each of the franchise owners and are 'over supporting' (as we term it) them during this time. This includes helping our owners understand their financing options through the stimulus package, quickly training them on our new, digital programming, and walking them through modified sales strategies. Ironically, our temporarily closed studios are actually selling more memberships now than when they were open. They are actively calling prospects who are sitting at home, scrolling through social media, etc. and really connecting with them on a personal level about what's happening in the world, how health and fitness are so important, and getting them excited to be members when the studio re-opens. 

For us, it remains business as usual in many other aspects of the franchise lifecycle, in particular, the onboarding and studio pre-opening phases. Our franchisees are continuing to move through the process in earnest; and we are heavily supporting as usual, while modifying certain processes — for example, potentially moving through LOIs before viewing sites in-person, if required in the short-term.  We also find ourselves in a unique position, with many of our franchisees in pre-opening phases, at various stages of LOI/ lease negotiation, studio build-out, recruiting and presale. We are working with each franchisee on a case-by-case basis in order to best support their particular need, and we are continuing to fire on all cylinders and keep the process moving. 

Meanwhile, the franchise sales pipeline is still strong. Perhaps counterintuitively, our sales in March remain extremely strong. We are seeing investors and entrepreneurs, who understand the opportunities that will be coming out of this, excited to move forward. They are poised and excited to take advantage of unprecedented real estate opportunities that are opening up and preferential financing terms that they can get, while knowing that they will open their studios in several months, right when there's a huge pent up demand for people to work out. 

We've seen several franchise brands laying people off during this time. Since we are able to take advantage of the way the market is going, this provides us the ability to recruit top talent from the other fitness franchises and build our team in a really effective way. 

What are three tips you have for other C-Suite leaders for best practices?
Keeping an open and constant communication with your franchisees is of the utmost importance. I am personally calling each of our open franchisees regularly to check-in with them and see how they are feeling. Our franchisees have expressed their gratitude for frequent touch base calls, updated content calendars and support with personalized business plans. Making sure our owners know how supported they are is critical. Of course, that means not just telling them they are supported, but actually providing the highest level of individual attention and support. Communication with your internal team is just as important as well. It is critical that your internal messaging is clear, forward-thinking and frequent. 
The idea of 'over support' to the franchisees is extremely important. Franchisees are looking to us for sophisticated support and guidance. Especially for the studios that are temporarily closed, there will be challenges they don't typically face, so we look to go above and beyond in areas like recommending various finance options that may be available to them, ways to engage with new and existing members remotely, and how to communicate with their own staff.
Define a strategy for coming out of the crisis. We are heavily involved with making sure things continue to operate smoothly during this time, but behind the scenes we are putting together tactical plans to make sure when we are clear to open, all of our studios are primed to take advantage of the changes that will be happening in the market. 
What are a few tips you have for franchisees?
The world is uncertain right now; however, it is important to stay engaged with your business. The overarching theme of our strategy is to find opportunities and advantages from what's happening. Whenever there are big events like this, which negatively impact many businesses, there are also opportunities that come along with it. For our open studios, we are strategically adapting our marketing messages to the time. Something that Floyd Mayweather often said throughout his career and life is 'Tough Times Don't Last. Tough People Do.' We have been using that phrase in our creative campaigns, which people are responding extremely well to. Our sales teams at each location are also spending more time on calls with prospects than they typically do, to share their experiences of what's happening right now and to show they really care.

It's also important to coach franchisees to treat their staff and team well. The team needs to know you are being transparent with them. You need to be clear on what the path forward is, even when there are tough decisions to be made, and give them comfort that you're focusing on what is important for both them and the business. 

For franchisees in the pre-opening phases, they can be moving diligently through the process, in order to take advantage of the market shifts over the coming months and set the foundation for long-term success. 
 
Can you cite any specific examples of franchisees making the best out of a worst situation?
Almost all of our franchisees that are in the pre-opening stages understand that they are in an advantageous place in the franchise lifecycle, and are looking to quickly move and capitalize on what's happening in the market. Smart operators understand that there are several meaningful opportunities related to the current economic disruption that will likely come over the coming weeks and months, including:
The real estate market is likely going to reset, with preferential deals expected to be presented vs. just a couple of weeks ago, potentially through lower base rents and longer rent abatement periods.
With the disruption to most gyms across the country caused by the closings, there will be new potential opportunities for franchisees to recruit talent looking for new opportunities.
The government stimulus package provides some attractive financing options for both existing and new borrowers, which many of our franchisees are taking advantage of, and which future franchisees in our sales pipeline are excited about.
Studios currently in or heading into presale will be in advantageous positions to market to people who are currently not able to attend their usual gym.
People at home are not as emotionally connected to their current gyms and will be more open to trying new offerings. 
Our franchisees in the pre-opening phases are gearing themselves up for launch when the market opens up and when there will be significant demand for fitness. This is a unique time where the competitive landscape may be very different and more favorable to what it is now.
As we're having sales conversations with smart investors, they're seeing all of the benefits to the above, especially with a brand like ours that is able to support continued growth throughout this time.
What is your message to people at home who are upset their favorite fitness studio is closed for the time being?
Staying active on a daily basis is not only important for your physical fitness, but your mental well-being as well. In a time like this, it is extremely important you continue to find a way to move, sweat and keep your activity levels up. While you can't go into your favorite fitness studio at the moment, there are tons of apps that are providing in-home workouts. As with many other studios, Mayweather Boxing + Fitness has our own custom content that is in line with the product members are used to receiving in-studio, but are easily doable with no equipment in a limited space. These workouts are both live-streamed and posted daily on our Instagram. Our workouts are a combination of shadow boxing technique, bodyweight strength movements and cardio plus plyometric sequences. This not only helps you stay active and on-track with your fitness journey, but it also continues to connect our community. Remaining engaged with your fitness family is extremely important to stay motivated and feel uplifted during this time and beyond. 
Courtney Moore is the Director of Marketing & Content at the International Franchise Association. James Williams is the CEO of Mayweather Boxing + Fitness.