Image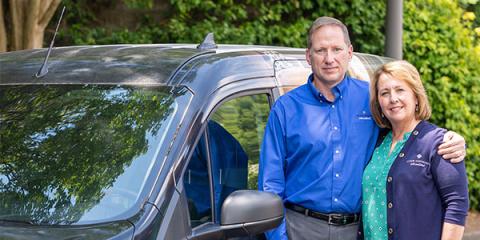 Though they may seem few and far between, there are stories of success and new beginnings in this year when the unthinkable has become the new reality. Count the saga of Norm and Kathy Golm among those happy-ending stories. The Versailles couple – Norm is 56 and Kathy is 58 – recently became franchise owners with Floor Coverings International, visiting customers' homes in a Mobile Flooring Showroom stocked with thousands of flooring samples from top manufacturers. The Golms serve clients throughout Lexington, Frankfort, Georgetown, Paris, Winchester, Richmond, Nicholasville, Versailles and Lawrenceburg, Kentucky.
Before the COVID-19 pandemic began, the Golms had no clue they were destined to become newly minted franchise owners. They were living in Indiana, where Norm – who spent more than 30 years in the corporate world – was director of innovation for a $3 billion electric motor company in Fort Wayne. Kathy had been an elementary-school ESL teacher for migrant and refugee children before taking early retirement and becoming a realtor. The couple relocated to Lexington when Norm took another job, but after only nine months, he was laid off due to COVID-19 cost-cutting moves. "We were too young to retire, so we used some of our retirement funds to be our own boss," Norm said. "We enjoyed Lexington, so we decided to stay and go into business for ourselves."
Added Kathy: "I get fulfillment from helping those in need, and with Floor Coverings International I'm helping people create the home of their dreams. I've always had an interest in interior design and staging and when this business opportunity came up it was a match for each of our skill sets."
In Floor Coverings International, the Golms found a company that has tripled in size since 2005 by putting a laser focus on consumer buying habits and expressed desires, its impressive operating model, growth ability, marketing, advertising and merchandising. Floor Coverings International further separates itself from the competition through its customer experience, made up of several simple and integrated steps that exceed customers' expectations. "We feel that Floor Coverings International's value system matches our values. We want to do things right the first time and have a customer-centric focus on treating people how they like to be treated," Norm said. "Conversely, we are excited about having the opportunity to create our own path and be our own boss."
Floor Coverings International is the #1 Mobile Flooring Franchise in North America. Utilizing a unique in-home experience, the mobile showroom comes directly to the customer's door with more than 3,000 flooring choices. Floor Coverings International has 150-plus locations throughout the U.S. and Canada with plenty of opportunity for continued expansion in 2020. For franchise information, please visit www.flooring-franchise.com and to find your closest location, www.floorcoveringsinternational.com.
For more information and franchise opportunities for International Franchise Association (IFA) franchisor member Floor Coverings International, click here.