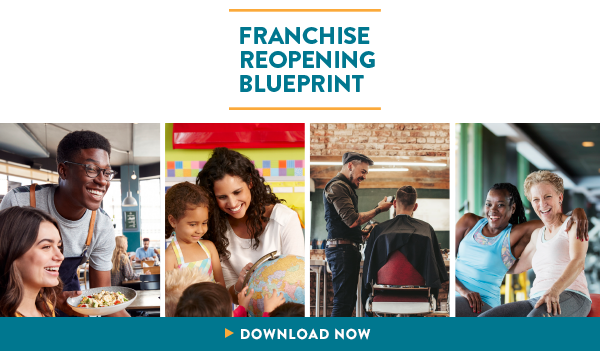 Introduction
These guidelines aim to provide contextual practices for how franchise businesses can mitigate risk through education and practices necessary to protect the health of their employees, customers and communities. To ensure we have the most relevant information to offer, IFA has conducted interviews across our Automotive, Commercial Cleaning Services, Education, Fitness, Hotel, Residential Services, Restaurant, Salon/Personal Care Services and Senior Care Services sectors with franchisors, franchisees and professional advisors most knowledgeable in their fields. The IFA membership operates in over 300 separate industries and we can provide a unique cross-section view of business, the American consumer and how we believe the U.S. consumer economy can recover quickly. This report sets out our best recommendations for opening and maintaining businesses after COVID-19.
These are our early recommendations that draw from the White House guidelines and the differing rules in the state houses. It is our goal to provide regulatory bodies with practical guidance when making the critical determinations about which businesses remain open, how best to restore those that will reopen, and the practices they should follow to protect their customers. Our work in this area is to support the efforts to instill confidence in businesses and rapidly restore our nation's economy.
Background
Founded in 1960, the International Franchise Association (IFA) is the world's oldest and largest organization dedicated to promoting, protecting, and enhancing the franchise business model. IFA advocates for America's 733,000 franchise businesses across 300 business lines who together employ 7.6 million American workers.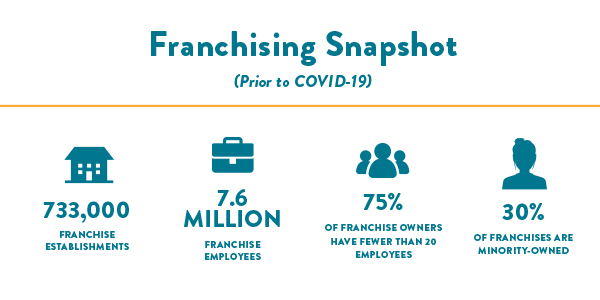 Franchising is an arrangement where a name brand company grants a local entrepreneur the right to use its business name, trademarks, and processes to produce and market a good or service. The business owner usually pays a one-time fee and a percentage of sales revenue as royalty. Typically, the brand provides national advertising and support, while the independent owner is responsible for day-to-day operations of the business, including hiring and scheduling employees.
It's no exaggeration to say that American franchises are the backbone of the small business entrepreneur in our country. In past recessions, the business model has proven to be resilient and a leading expansion method coming out of economic downturns that should be encouraged. Prior to COVID-19, America had 733,000 franchise establishments that employed more than 7.6 million Americans. The vast majority of these franchise owners are small business owners in every sense.
According to industry research firm FRANdata, 75% of all franchise owners have fewer than 20 employees. Franchising is also more diverse than non-franchise businesses: according to U.S. Census data, nearly 30% of franchises are minority-owned, compared to 18% of non-franchised businesses.
Franchises are found in nearly every sector of the economy. In fact, less than half of all franchises are in the food and beverage industry. Other major sectors include automotive, commercial services, education, gyms, hotels, residential services, restaurants, salons, senior health services, etc. According to an IFA survey, 74% of franchise businesses in the country are closed due to COVID-19.
View sections of the Franchise Reopening Blueprint below, or download the full report here.
Franchise Sector Summaries 
Thank You to Our Participants