Image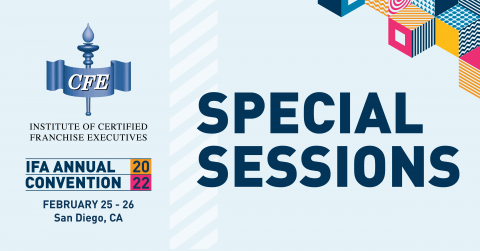 Friday, February 25, 2022; 9:00am - Saturday, February 26, 2022; 5:00pm
Description
BETTER PREPARATION. BETTER PERFORMANCE.
Becoming a Certified Franchise Executive is an important step in your franchise career.  Knowledge is POWER and the course requirements necessary to complete your CFE provide you with POWERFUL knowledge.
During the two-day Special Sessions, you're in store for a wealth of knowledge through engaging courses. By attending sessions on both Friday and Saturday, you can earn up to 500 CFE credits.
Whether you're a new CFE Candidate or a current CFE working towards recertification, IFA is here for you!
Want to earn even more CFE Credits? Stay in San Diego a few more days and register for IFA's 2022 Annual Convention!