Image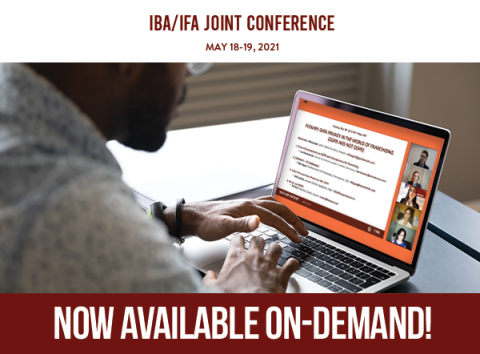 Tuesday, May 18, 2021; 10:00am - Wednesday, May 19, 2021; 12:35pm
Speakers
International Franchising Legal Experts
Description
Enter your email address used during registration
Enter password: playback
Trouble logging in? Reset your password here.
Didn't register for the live event, but want to view the on-demand content? There's still time to purchase the on-demand content and gain CLE credits! Register now for on-demand access through August 19. 
CLE credits are available for the conference Plenary sessions. Once viewed, a COA will be emailed to you so you can submit for the credits. Don't wait to purchase access! For up-to-date information on the 2021 CLE process, please view our CLE FAQ.
Also save the date now for our 37th Annual IBA/IFA Joint Conference, May 17-18, 2022, at the Grand Hyatt in Washington, DC. See you there!