Image

Wednesday, November 10, 2021; 2:00pm - Wednesday, November 10, 2021; 3:00pm
Speakers
Abby Schmidt, Franchise Partnership Development Manager, Paychex, Inc.
Claudia San Pedro, President, Sonic Corporation
Paul Raynor, Sonic Nashville DMA, Cooper/Raynor/Young Franchise Group
Emma Dickison, CFE, CEO & President, Home Helpers Home Care
Jerry Akers, Franchisee, Great Clips, Inc.
Description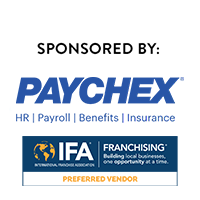 IFA is pleased to announce a series of webinars starting this fall focused on several issues related to current human resource challenges. IFA's Labor & Hiring Webinar Series will provide attendees with an insight into how others in the franchise community are addressing:
Employees returning to the workplace post-pandemic;
Re-activating, hiring, and retaining talent;
The economics surrounding hiring, including wage pressure and remaining available federal funding options;
And lastly, alternative hiring strategies and opportunities to reach new potential employees.
On November 10th, we continue the discussion around hiring. Everyone is experiencing troubles with reaching and attracting new talent; with so many openings in the marketplace, you need to ensure you are finding the right people and are the most attractive opportunity out there! IFA's Payroll & HR Preferred Vendor, Paychex, Inc., will lead a discussion with franchise professionals around current strategies to reach new employee markets and make your openings attractive to potential talent