Image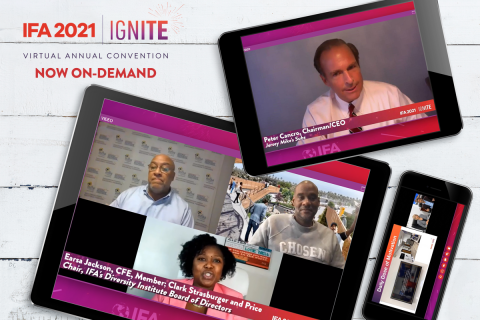 Thursday, February 11, 2021; 12:00am - Thursday, February 25, 2021; 12:00am
Speakers
Various Franchise Professionals
Description
IFA's Annual Convention is franchising's biggest event for business development and personal growth. Whether you're a franchising veteran or just starting out, there are sessions designed for everyone. 
Though we missed seeing our franchise friends in person this year, IFA's 2021 Virtual annual Convention was a success! A lot of people have been asking — How do I access IFA 2021 on-demand content? 
What's great is, it's easy! If you are already registered for the Convention, you simply login to the virtual platform to view session recordings. 
Missed out? You can still purchase on-demand access! Click here and get yourself registered, you can sit in on all the keynote and breakout sessions and still earn your 300 Education Credits & 100 Participation CFE Credits.