Image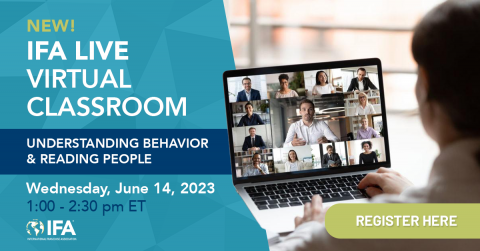 Wednesday, June 14, 2023; 1:00pm - Wednesday, June 14, 2023; 2:30pm
Speakers
Sandie Curtis, CFE, IPMA-SCP, JMT, IFA, Vice President of Education
Description
IFA is excited to announce the newest CFE-approved professional development opportunity that offers 90 minutes of live virtual classroom instruction and professional development content for participants to learn, engage, and interact with peers and instructor.
Have you noticed that it seems easier to communicate and work with some people, while in the same situation with others, your message gets lost, conflict occurs, and frustration from all sides takes over? Do you wonder why connecting with people is different within different groups? Are you more comfortable working with easy-going individuals than people with high intensity? Do you know how you are perceived in the workplace environment?
This interactive, live virtual classroom session will utilize the Everything DiSC® behavior assessment tool. DiSC® is built to help individuals understand themselves better and provides insights, strategies, examples, and hands-on learning to identify, recognize, and understand unique behaviors of others.
Attend this session to better communicate, collaborate, understand and be understood.
Fee: $399 Member / $599 Non-Member
CFE Credits: 2 CFE Education Credits and 5 CFE Participation Credits
*CFE program participation is not required to attend this session. This session is open to anyone interested in educational/professional development opportunities.