Image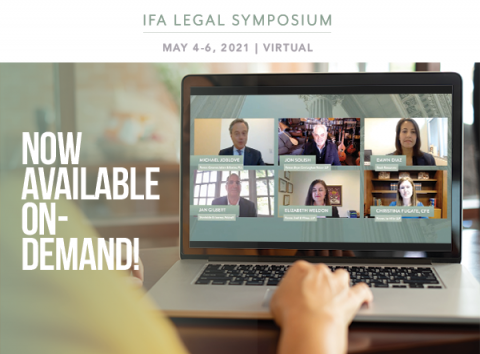 Tuesday, May 4, 2021; 12:20pm - Thursday, May 6, 2021; 4:30pm
Description
On-demand access to the 2021 Symposium content is available here. All sessions will be available in the platform for 90 days following the event. You can review sessions in the "All Sessions" tab and watch content at your leisure. 
To view the content, use the name and email address of your registration to obtain an authorization code. Click "All Sessions" and then on the session title of the content you would like to watch. To start the player, click the replay button.
On-demand access will be available until August 6, 2021. If you are having issues logging in, please contact ifaevents@mocandco.com.
Max out the availability of CLE credits by watching all sessions on-demand! For information on available CLEs and how reporting will work, please read our CLE FAQ. 
Save the Date for next year's IFA Legal Symposium, May 15-17, 2022, at the Grand Hyatt in Washington, DC. And keep a lookout at http://franchise.org/events for the other upcoming IFA Conferences. See you there!