Image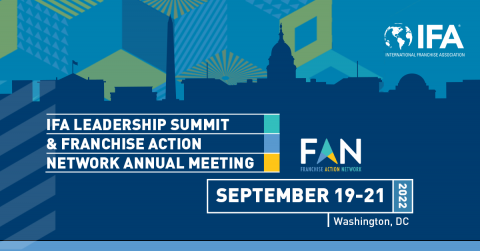 Thursday, August 11, 2022; 2:00pm - Thursday, August 11, 2022; 3:00pm
Speakers
Jerry Akers, Franchisee/Owner Great Clips of Palo, IA
Matthew Haller, IFA President and CEO
Michael Layman, Senior Vice President for Government Relations, IFA
Description
Curious about what happens at the IFA Leadership Summit and Franchise Action Network (FAN) Annual Meeting? Join IFA President and CEO Matthew Haller and Michael Layman, Senior Vice President for Government Relations, along with fellow IFA members to learn more about why you should attend this exclusive IFA member-only event. 
Taking place September 19-21 in our nation's capital, this is the premier meeting for all IFA members – franchisors, franchisees, and suppliers – seeking the opportunity to meet with elected officials in an intimate setting and share the story of franchising with those who need to hear it most. 
It has been nearly three years since IFA members have had the opportunity to take on Washington, DC, in person, and it is an excellent chance to learn from each other and gather with some of the best franchising leaders.  
On Thursday, August 11th at 2:00 pm ET, we will provide a sneak peek at this year's program and share why this is the right summit for you. Join us to have your questions answered about what takes place during a Washington, DC fly-in! 
A few notable highlights for this year's Franchise Action Network meeting include: 
Hearing directly from decision-makers on the issues that matter most to you and the future of franchising, while educating them on the impact your business has on their constituents  

A political and policy outlook on news of the day from leaders on both sides of the aisle 

Insights on the latest research on economic challenges, the labor shortage, and supply chain issues 
A celebration of the one-year anniversary of the Open for Opportunity campaign, where we will recognize individuals for their contributions to franchising and the campaign